Premier League: Vincent Kompany wants to bring more glory to Manchester City
Manchester City captain Vincent Kompany hopes to be able to celebrate plenty more silverware in the near future.
Last Updated: 13/05/14 12:02am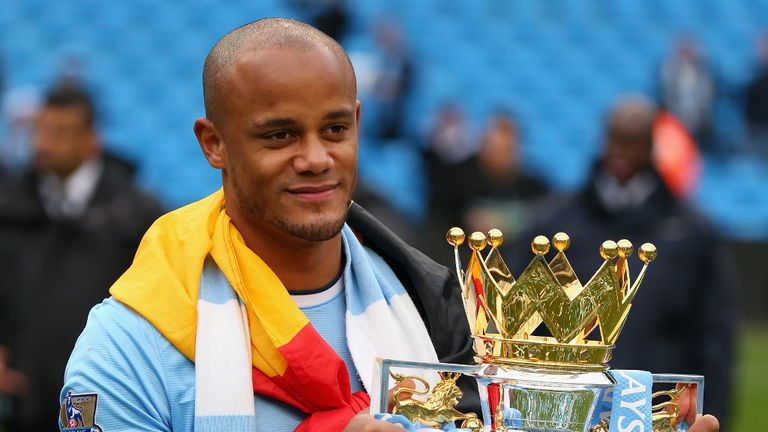 Thousands of supporters filled Manchester's Albert Square and then lined surrounding streets as the team began an open-top bus tour from outside the town hall.
Fans relived City's season of glory, which was completed on Sunday with a win over West Ham United clinching the title, thanks to big-screen replays before players addressed the crowd and then boarded the bus.
Kompany, who scored the second goal in the 2-0 win over the Hammers, said: "This is a team that is growing and we have done it in style.
"Everyone keeps saying, 'They have won the league and they have done it in style'.
"That is what I like about it. That is what I want us to do again in future, keep winning in style.
"We never gave up, we always believe. Together we did it, we knew we could, and until the end we fought and we brought the Premier League back to the city, and in the colours, it should always be."
Playmaker Samir Nasri, who opened the scoring in the final game, paid tribute to the influence of manager Manuel Pellegrini, who made a huge impact in his first season in England.
Nasri said: "Do you want me to be honest? The atmosphere, the manager and the confidence. That is the difference between last year and this year.
"He trusts the players. The philosophy we played all season is just about all the quality we have in this team, that is the big difference."
Keeper Joe Hart, who was named in England's World Cup squad earlier in the afternoon, admitted the season had been a rocky one at times, but he was delighted with his form at the conclusion after a spell on the bench.
Hart said: "It has been a good season, a tough season, but one I have enjoyed.
"It was difficult for me personally but the beauty of this team is that we have got people who can fill in at any time.
"Costel (Pantilimon) was absolutely fantastic when he played, I got taken out of the team.
"He's been brilliant, a pleasure to work with, the same as Richard Wright, and Xabi (Mancisidor) has come in and been a great coach. As a goalkeeping unit we are really blessed at this club and I am proud to be part of it."