UEFA fine Manchester City 60m euros and restrict Champions League squad
UEFA has fined Manchester City 60m euros (£49m) and restricted their Champions League squad to 21 for next season.
Last Updated: 17/05/14 8:00am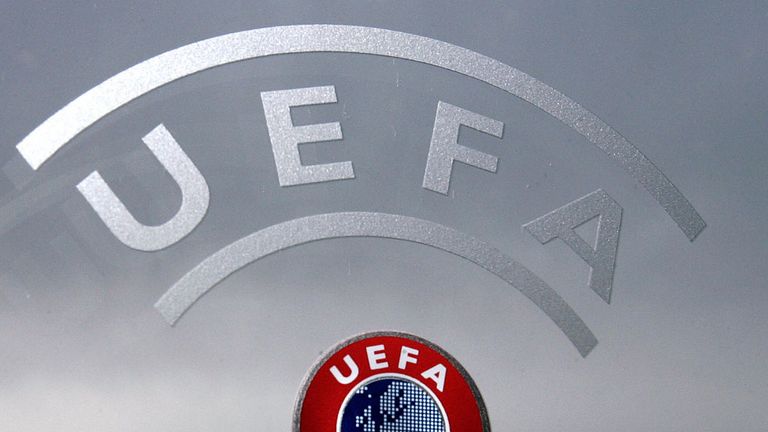 The club owned by Sheikh Mansour snatched the Premier League title last weekend but will have to curb their spending in the transfer market for the next two seasons and freeze their wage structure in order to escape further punishment.
French champions Paris St Germain, who were charged with similar breaches, have been hit with the same punishment.
Should the clubs successfully fulfil the operational and financial measures agreed with the UEFA Club Financial Control Body, they will be able to reclaim 40m euros of the fine and have the squad restriction lifted in time for the 2015/2016 Champions League.
Manchester City have accepted the sanctions, which include a salary freeze on their Champions League squad for the next two seasons, and to "significantly limit spending in the transfer market for seasons 2014/2015 and 2015/2016", said UEFA.
A statement on the City website read: "Manchester City Football Club can confirm that at the end of the current financial year (May 31st) it is on course to financially break even, as planned.
"Operating with no debt, the club is realising its football and commercial opportunities whilst continuing unprecedented investments in both youth development and the local community
"From the outset, the club has engaged with UEFA in its introduction of the Financial Fair Play Regulations in good faith and without prejudice and in a transparent and collaborative manner.
"The club's position is that it is beholden upon UEFA and the European football establishment to ensure the same.
"The club can confirm that it has been in discussions with UEFA over the last month - in relation to the application of Financial Fair Play regulations - as has been widely reported and communicated by UEFA.
"At the heart of those discussions is a fundamental disagreement between the club's and UEFA's respective interpretations of the FFP regulations on players purchased before 2010.
"The club believes it has complied with the FFP regulations on this and all other matters. The club's expenditure on new players for the upcoming summer transfer window, on top of income from players it might sell, will be limited to 60m euros."
Sky Sports understands that, in spite of the sanctions, City intend to press ahead with their transfer plans for the summer.
Seven other clubs, Galatasaray, Trabzonspor and Bursaspor from Turkey, Russian sides Zenit St Petersburg, Anzhi Makhachkala and Rubin Kazan, plus Levski Sofia from Bulgaria also failed FFP.
Their punishments ranged from Zenit's 12m euro fine, 6m suspended, and European competitions' squad reduction to 22 players, Rubin (6m, 3m suspended, squad 21 players), Anzhi (2m, 1m susp, squad restricted to 21) to Bursaspor, Galatasaray and Sofia's 200,000 euro fines.