Premier League: David Silva discusses Yaya Toure and his Manchester City future
David Silva says he is 'very happy' at Manchester City - and claims team-mate Yaya Toure has 'always seemed fine to me'.
Last Updated: 23/05/14 8:13am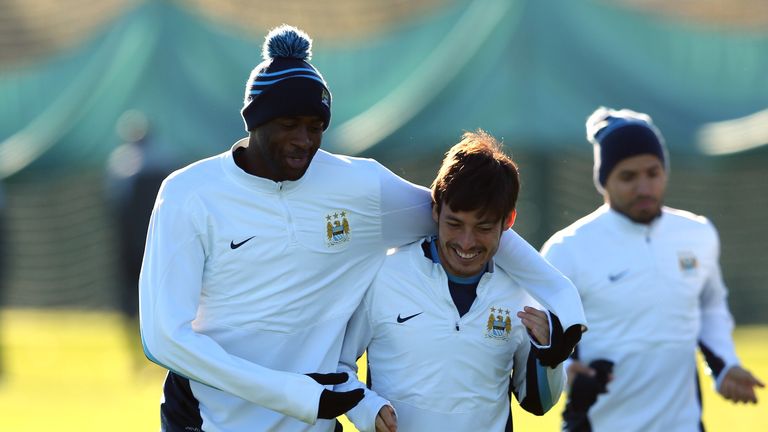 Toure's future at the Etihad Stadium has been brought into sharp focus this week following claims by the player's agent of signs of disrespect regarding the lack of acknowledgement of his recent birthday.
The Ivory Coast international, who was a key figure in City's Premier League title triumph, has also conceded that he is open concerning his future at the club.
His representative Dimitry Seluk subsequently told Sky Sports News on Thursday that Toure wants a role at City when he retires and that the player 'must feel happy'.
Silva, who joined City in 2010 in the same summer as Toure, has stated that he has not spotted any signs that the former Barcelona midfielder is unhappy.
"I've been playing with the guy for years and I've always thought he was okay," Silva told the Daily Mirror.
"So I don't understand why anyone would necessarily think he was unhappy, he's always seemed fine to me."
Regarding his own future, Silva has no intention of leaving City after winning the Premier League and the Capital One Cup with Manuel Pellegrini's side this season.
The Spain international added: "At the moment, I'm very happy and don't see any changes ahead.
"You never get tired of winning, and at the moment I'm winning with City, so I don't have any ideas of making a change.
"I've always said I'm very happy at City. With football you can never predict what's going to happen. But at the moment I'm happy and happy to stay there.
"The manager has created a good atmosphere and brought a better energy to the pace, and the result of that is we won two trophies last season."