Woodgate accepts Europa snub
Jonathan Woodgate insists he is happy to let Stoke boss Tony Pulis decide how much he plays this season.
Last Updated: 23/09/11 5:04pm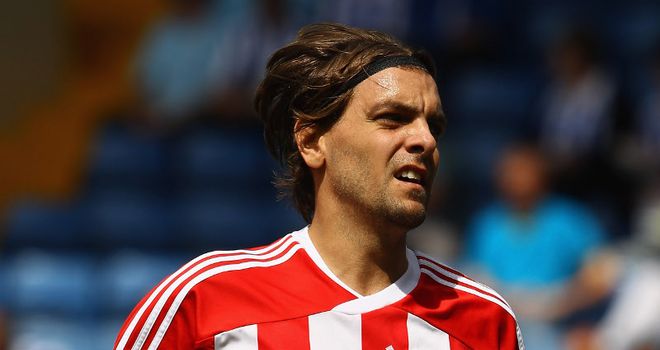 Jonathan Woodgate insists he is happy to let Stoke boss Tony Pulis decide how much he plays this season.
Pulis snapped up the injury-plagued defender this summer after he was released by Tottenham having made just four appearances over the last two seasons.
Although Woodgate made his Stoke debut in the Europa League qualifier against Hajduk Split, he was then left out of their squad for the group stage, but Pulis has explained he wants to give the 31-year-old adequate recovery time for their Premier League games.
Woodgate has played four of the Potters' five league games so far and is expected to return for Saturday's home game against Manchester United after also being rested for the Carling Cup win over Tottenham in midweek.
"I wouldn't be professional if I didn't say I was slightly disappointed that I wasn't picked for the Europa League squad," he told The Sentinel.
"But I do understand the reasons behind this, and the gaffer was quick to explain things.
No problem
"I respect his decisions and I'm not one to sit around and sulk. There's no problem with me.
"Hopefully, we'll get through the group stages and I can be included then."
Woodgate's career has been blighted by a series of fitness problems but the eight-cap England international remains philosophical about his wretched run of luck with injuries.
"I've had more than my fair share, but I'm not dead, am I?" he said. "I'm alive and kicking and playing in the Premier League.
"Health-wise, touch wood, I'm feeling fine. I did miss the Liverpool game with a niggling injury, but that was just precautionary.
"In the past, I would have probably played and then missed the next four or five games. Now I leave it to the gaffer to decide which games I play."
Top signings
Woodgate has been joined at the Britannia Stadium by Matthew Upson and former Tottenham team-mate Peter Crouch, and he feels they are excellent acquisitions as Stoke aim to secure their first top-half finish in the Premier League.
"I would put anyone up against him (Crouch) on a goals-per-game ratio," he added.
"You only have to watch him on the training ground to see what a top player he is. Give him the ball and you will see things happen, I guarantee that.
"The biggest surprise to me is that Matthew Upson wasn't snapped up before. He was on a free transfer, which is amazing.
"It's only a short time since he was finding the net for England in the last World Cup and he's played a lot of Premier League games in the last four years, so to come here on a free is a joke."