Jonathan Woodgate eyes happy ending at Middlesbrough after career of regrets
Jonathan Woodgate is determined to finish on a happy note at Middlesbrough after a career full of regrets.
Last Updated: 12/12/12 9:57am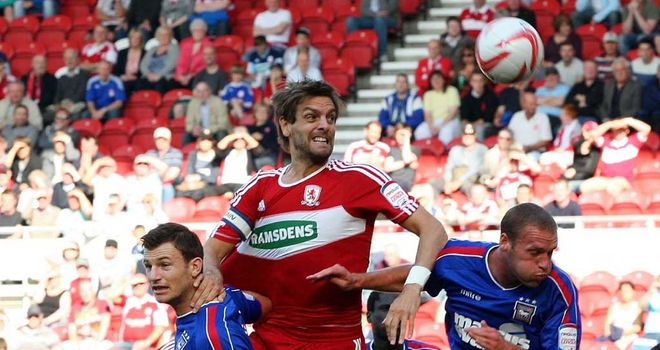 The former England player was regarded as one of the most promising centre-backs of his generation but has been blighted by injuries and suspensions.
"I know I didn't get enough England caps, eight isn't anywhere near enough," Woodgate told the Daily Telegraph.
"I should have got more but should have is one of the biggest phrases out there. I'm not bitter about it, what's the point?
"I'm lucky enough to play football for a living and I've had a good life because of it. My dad always told me to stop feeling sorry for myself and get on with it.
"Don't get me wrong, I was gutted at the time. I should have gone to major tournaments and didn't because of bans and injuries. I should have achieved more but that's life. It's full of ifs and buts."
Woodgate made his England debut at 19 and was part of the Leeds squad that reached the semi-final of the UEFA Champions League before financial meltdown struck the Elland Road club.
"I thought it would always be like that," he added. "It came so easily. I thought I'd be a Leeds player for life; I never thought I'd want to leave or have to leave.
"I suppose it was a little bit naïve but I didn't know any better. It was a young, vibrant team, I was playing with my mates, I thought I'd make history there."
Guilty
Instead Woodgate left for Newcastle but only after being found guilty of affray in an incident in which the victim claimed he had been attacked because he was Asian.
The judge in the case said he did not believe the attack had been racially motivated but the furore surrounding the allegations has stayed with the player.
"I was tarnished by that and have been all my career," Woodgate said. "It's 12 years ago and sadly that is something I'll always be remembered for.
"The worst part was being labelled a racist. It upset me but anyone who actually knew me, knew I wasn't in the least bit racist. Unfortunately, it's still an accusation that sticks to a certain extent.
"It was my own fault. I shouldn't have been out in the first place. I made the mistake and I paid for it.
"I would have gone to the European Championship in 2000 and probably the World Cup in 2002 but I was banned from playing for England for two years because of that court case.
"Now you see other players doing worse and not getting a ban."
Things didn't work out much better for Woodgate at Newcastle under Sir Bobby Robson and that remains a source of frustration for the 32-year-old.
He added: "We should have won a trophy, we were in the Champions League and I was playing for one of the greatest managers of all time. It never worked out.
"We didn't qualify for the Champions League the following year and I was at fault for the goal in the qualifier against Partizan Belgrade and missed a penalty.
"When we got to the semi-finals of the UEFA Cup, four of us were ruled out of the second leg with injuries and we lost. It's been the story of my career."
Disappointments
Despite those disappointments, Woodgate was given the opportunity to be a success at Real Madrid in 2004 only to see that chance soured by injury.
"I'd been given an opportunity to play for the biggest club in the world and injuries ruined it," he said.
"I played 14 games in two seasons. I loved it out there, though, as a life experience it was fantastic.
"If I have one regret it was not going back after I'd spent a season on loan at Middlesbrough.
"I played virtually an entire season for the first time in ages. Boro had a bid accepted but I didn't have to leave.
"I was 27, I was coming into my prime as a centre-back. I left too early. I was fit for the next two years and I should have shown them what I could really do."
While Woodgate did enjoy trophy success at Tottenham, scoring the winning goal in the League Cup final in 2008, soon after he was told that a groin injury would end his career.
"That was the hardest time of all," he admitted. "At 29 I thought it was going to end. I was devastated.
"I refused to accept it and rejected their advice. It's paid off, I'm still playing and I've had this chance to come back home to Middlesbrough.
"I wanted to give something back to my home town. I didn't play for them when I was a kid, so to come back for a second time and get them back into the Premier League, that'd be a happy ending wouldn't it?"
Don't miss any live and exclusive football coverage this festive season. Click here to visit Sky Sports' Festive Calendar