New Middlesbrough loan signing Jozsef Varga eyes permanent deal
Hungarian international Jozsef Varga insists he is fully focused on winning a permanent move to Middlesbrough.
By Juha Pal and Graeme Bailey
Last Updated: 27/06/13 4:21pm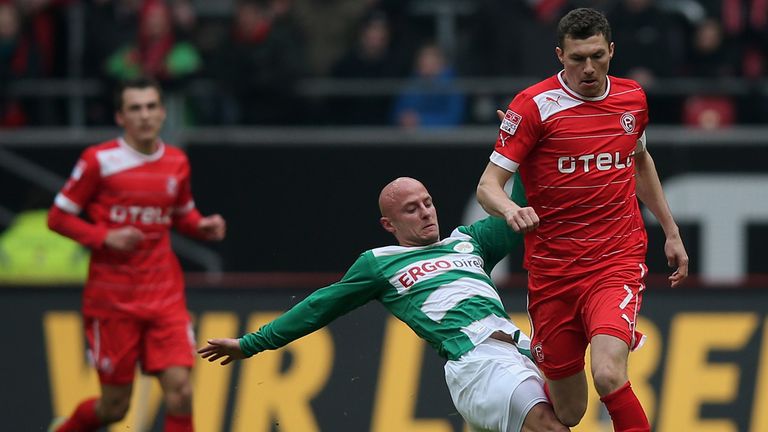 The 25-year-old has become Tony Mowbary's first signing of the summer, arriving on a season-long loan from Debrecen.
Now Varga, who finished last season on-loan at relegated Bundesliga outfit Greuther Furth, is looking to make his move to England a permanent one.
"I arrived to England on Sunday night and passed the compulsory medical on Monday morning. The place was familiar for me, I was here a couple of weeks ago when we had a longer conversation with the manager," said Varga.
"It is flattering as Middlesbrough are a famous and big club and they signed me on Tony Mowbray's wish. The manager looked around in more countries and was looking for a player for this position and said I was his main target.
"It's also attracted me that the club's aim is to win promotion. I hope I'll have more luck in England because I had bad fortune in my short spell in Germany. But I don't look back, I'm motivated by the fact that I'd be playing in a country which is a target for all footballers.
"I've one year to prove my abilities in the Championship and, of course, I'd like Middlesbrough to sign me for a longer period."
Mowbray added: "He's a player who's been on our radar for a while.
"He's versatile, very mobile and athletic. He can break up attacks and tackle but I wouldn't want to pigeonhole him as a defensive midfield player because his athleticism allows him to get into the opposition box as well.
"He's here to see how he can adapt to the English game. He has certain aspects of his game that we're going to have to try to fine-tune but we're looking forward to working with him.
"He's a player with a fully-committed approach who I'm sure our fans will enjoy watching. He's seems a very focussed young man and we're looking forward to starting work with him."
Mowbray has confirmed that Cameroon international defender Andre Bikey has now left the club as Boro confirmed they would not be taking up their option on him.
"We did have an option but we didn't pick it up so he's free to go and talk to other clubs and we're looking at other options," he said.
Boro have also revealed that Brazilian teenagers Rafael Periera and Marcos Rhoden would be returning to the club.
The duo joined from Juninho's club Ituano as part of a co-operation between the two clubs in February, and they will now stay until the end of the year.