Middlesbrough boss Tony Mowbray insists he is not under pressure and is in positive mood
Tony Mowbray insists he is positive about his future at Middlesbrough and does not feel under any pressure.
By Graeme Bailey - Tweet me: @graemebailey
Last Updated: 03/10/13 5:13pm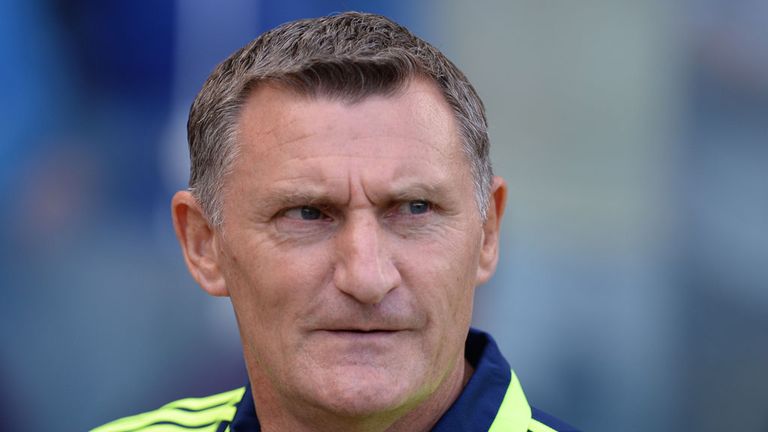 Mowbray and Boro were more than hopeful of mounting a promotion push this season, but they have suffered a poor start with just one win in their opening 10 games.
Asked by Sky Sports if his position was feeling any pressure he simply replied: "From?
Instead he remains hugely positive, adding: "Yes [I am positive] because I watch my team every week, so yeah I think so."
Mowbray insists that Boro have been unfortunate so for this season and could easily be up towards the top end of the table instead of their current lowly 19th position.
"We have players working extremely hard," he said.
"We feel we should have a lot more points, we have dominated just about every match - with QPR being the one game where we thought they would give us trouble and they did.
"It will balance off, we will get what we deserve. If every game was a real chore and we weren't having any shots and didn't think we would score then we know it would be a long and hard season.
"But obviously that is not the case here as we can score goals and give lots of teams problems. It will turn for us and then let us see what the table says.
"Are we concerned? Yes, we want more points but the team are performing at a decent level and I am sure we will win enough games to have a decent season."
Mowbray is now the eighth longest-serving manager in English football despite being in his role less than three years, and he admits there is an issue with some clubs.
"I think a lot of foreign owners at the top end of the table, in the Premier League and also at the top end of the Championship, who have one eye on promotion, they have no problem in just changing the manager, as a new manager can just come and win every game of course! But, as we all know, that is not the case.
"It shows a lack of experience or lack of knowledge of some owners who think change will improve everything. Sometimes change is required, but sometimes it is rashly done.
"Everyone who wants to talk about it - be it journalists, supporters, or whoever it is - probably don't understand how a football club works and the things that are happening behind the scenes as all they see is results.
"Look at Nigel Clough, he reduced the wage bill, brought on young players - like Will Hughes for instance - and maybe that club as an example was ready to push on and has a very similar story to this club.
Potential
"We have had three years of having a wage bill that wasn't unsustainable as we did it, but we needed to reduce it and we have reduced it. This summer was the first time we were able to add and build and now have a squad we feel can build and grow.
"But if we want to judge this squad after 10 games then you will have your opinion whether it is right or wrong to do that, but I feel this team has bags of potential.
"Obviously we are in the results business and I do understand that, but I do have a chairman who has been in the game for a long time and not a foreign one who has been here for two minutes.
"The season will unfold in front of us and the season will get judged on that.
"With two or three wins you will be on the edge of the play-offs. There were about 14 points between relegation and the play-offs last year, will it be any different this year?
"Is it better finishing seventh or 17th last year? Probably not as it is only about four points difference. At the moment we are disappointed as we have drawn six of those 10 games. If we had won them all we would be top but if we had lost we would be at the bottom."
Mowbray also refused to make a plea to those Boro fans staying away after just 12,500 fans turned up to witness their draw with Huddersfield in midweek.
"I am only interested in the fans who are there, to be honest," he said.
"I think the people who come to the Riverside at the moment are seeing hopefully entertainment, we all want to win, but I think the team is coming along fine and I think the people who are coming along at the moment are true Boro fans.
"A lot of Boro fans, and me being one of them of course, have grown up with Juninho, Ravanelli, Yakubu, Jimmy Floyd, Merson and Gascoigne in the Premier League.
"Those days are not here any more and you're either a fan of those individuals or you're a fan of the football team and the town. As an individual, I would be supporting the Boro through thick and thin."