Rodgers frustrated at delay
Swansea boss Brendan Rodgers is frustrated at the delay in completing the signings of Darnel Situ and Rafik Halliche.
Last Updated: 08/09/11 8:50pm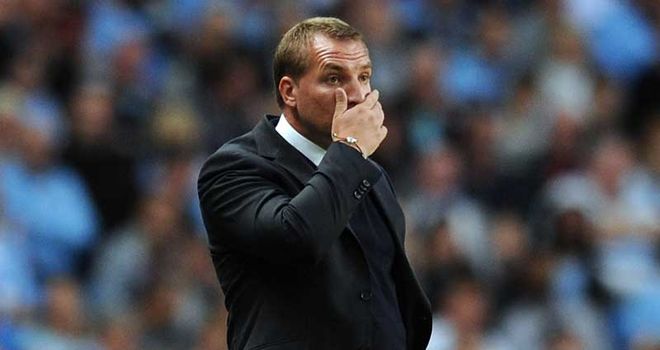 Swansea City manager Brendan Rodgers has expressed his frustration at the delay in completing of the signings of defenders Darnel Situ and Rafik Halliche.
The Swans and French club Lille agreed on a £250,000 deal for the transfer of Situ to the Welsh side, while Fulham are ready to farm out Halliche on loan.
However, both deals have to be officially confirmed and have yet to get international clearance, and Rodgers has bemoaned the delay.
Frustrating
"It's very frustrating," sighed the Swansea boss. "The bigger picture is we would be very vulnerable if they don't go through.
"I have a number of players who are versatile, but it would not be ideal if we lose these deals."
Rodgers, though, retains optimism that he will have the services of the duo before long and said: "But from everything I hear it should go through, and that should be sooner rather than later.
"Hopefully we will get it soon. Obviously the Premier League are fighting our corner and it should be fine.
"I get the reports from the club and from our side everything was done correctly, it was just something towards the end concerning the timing of when it's gone in, but in terms of how long I don't know and that's the honest answer. I am sure I will get another update later on.
"Darnel is in the building and training. He is here and I have spoken to him but I haven't spoken to anyone else as yet because the deal has not gone through and he (Halliche) is still a Fulham player."
The newly promoted Premier League side are away at Arsenal on Saturday for their fourth league fixture of the season.
Arsene Wenger's team have struggled so far this campaign and having collected just a solitary point from three matches, are below Swansea in the table.
Rodgers, though, has warned his players that the Gunners will be looking to bounce back after the international break but believes that they can conjure up an upset at the Emirates Stadium.
"Having worked with big players before, I know when they lose they are determined to come back and win the next game," he explained.
"Arsenal are a very dangerous opponent for us because of what happened to them and big players are motivated to get over a defeat like that.
Magnificent
"Arsenal are a magnificent club. They had a very disappointing result in their previous game, but this was always going to be a tough game for us, like every other game.
"I am sure they will be motivated to do well after losing to Manchester United (8-2), and they have new players in as well who will want to make a good start.
"The task is still very difficult, but we are looking forward to going there, as our performance levels have been good in the games so far. We are going to a magnificent arena, to face some very good players."