Martin Jol was disappointed Fulham didn't build on an early goal against Man City
Martin Jol expressed his disappointment at Fulham's failure to build on an early goal during the 2-1 defeat by Man City.
Last Updated: 29/09/12 7:01pm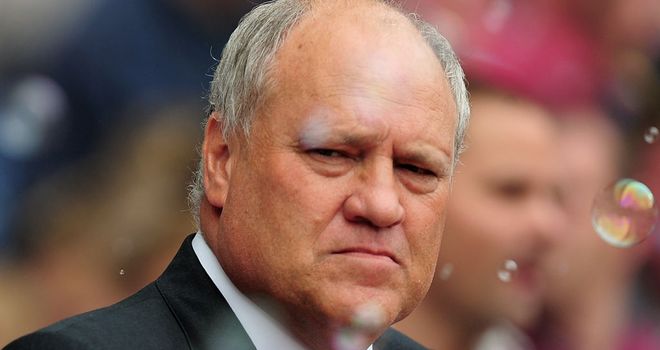 Fulham took a 10th minute lead when Mladen Petric converted from the penalty spot, but Edin Dzeko scored a late winner for City after Sergio Aguero had equalised just before half-time.
The Cottagers were without recent signing Dimitar Berbatov due to injury and Jol praised the way in which Petric took responsibility to put his side in front.
"Although Berbatov didn't play, Mladen took responsibility and he scored that goal as well," Jol told Sky Sports.
"That's exactly what you need against these world-class teams, to score a goal.
"But after that we didn't do enough to play our style and we didn't earn the right to play what we are capable of and that was one of the problems."
Jol added: "You can't complain because they are a world-class team.
"If it's still 1-1 after 87 minutes, then you still have a slight hope that you could do something on the break or defend against them.
"I think we did defending but the frustrating thing was that although they dominated possession, especially in the second half, the goals were pretty scrappy."
Dzeko thumped home the winner after John Arne Riise had failed to clear a Gael Clichy cross and Jol concedes the Norwegian full-back will be disappointed.
The Fulham boss continued: "It was a mistimed ball. I would hit it with my right foot instead of trying to head it. It was a bad clearance.
"I think he will be disappointed because the mistake he made they punished.
"They are a very good team but there is always a possibility against them to play your football like, for example, Arsenal did last week.
"We couldn't keep the ball, they were stronger than us and more eager to score.
"The only thing we could do was defend, defend, defend and that is probably not enough if you would like a result against them."