Fulham's Mladen Petric has mixed feelings after first goal in a month against Man City
Mladen Petric's joy at his first goal since early in the season was tempered by Fulham's loss to Manchester City.
Last Updated: 02/10/12 5:24pm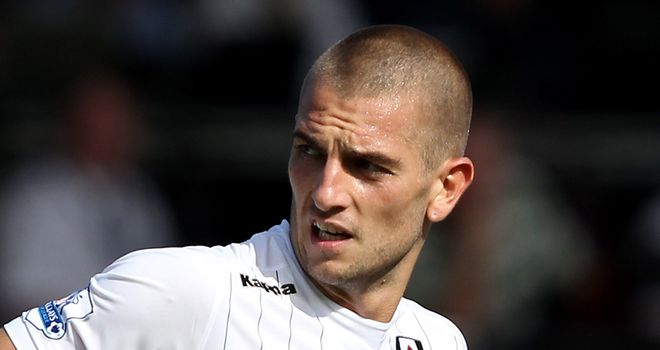 The Croatian striker slotted home an early penalty, given against City's Pablo Zabaleta in controversial circumstances, to put the Cottagers ahead against the Premier League champions on Saturday.
It was the 31-year-old's first goal since making his Fulham debut on the opening day of the season, when he scored twice in the 5-0 demolition of Norwich City.
"Of course I'm happy to be back scoring again," Petric told Fulham's official website. "It's always good for a striker to score. I had a good start to my Fulham career but then I was a bit injured. I'm happy to be back now and of course I'm happy about my goal but I wasn't really happy because we didn't win.
"We were not too pleased with our game in the second half - I think we were too deep and they had a lot of possession and we needed to be a bit braver. We defended very well but at the end it was a pity that they scored.
"Of course it's hard to play against footballers as good as that but we shouldn't have let them play as much as they did. If we'd managed to keep the ball a bit more then it would have been a different game but they were better than us on the day and probably deserved to win."
The former Hamburg striker is also looking forward to finally teaming up with Dimitar Berbatov when the Bulgarian returns to full fitness.
He said: "He's a very good player and I'm looking forward to playing with him in the future and I'm sure we can cause some trouble for the teams we play."