Fulham midfielder Chris Baird praises team-mates after draw at Arsenal
Chris Baird believes Fulham's start to the season could have been their best ever after claiming a draw at Arsenal.
Last Updated: 12/11/12 10:25am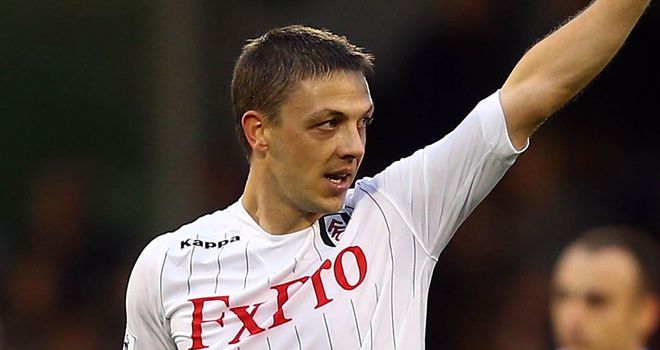 The Cottagers led at the Emirates Stadium before drawing 3-3 and find themselves level with the Gunners on 16 points after 11 games of the campaign.
"It could have been the best start ever," said Baird, quoted in the Daily Mirror. "To have 16 points alongside Arsenal is great. We knew we could come here and get a result.
"We are no illusions that we are a good team with great results. To be on 16 points with these is a great start."
He added: "We stuck in there even though we made it hard for ourselves in the second half. We will take 3-3- any day of the week. It was fantastic. At the end of the day, we are happy to get a point, considering the penalty."
That last-minute penalty nearly saw Arsenal claim the points but veteran goalkeeper Mark Schwarzer saved Mikel Arteta's effort and Baird was full of praise for both the Australian and two-goal forward Dimitar Berbatov.
The 30-year-old Northern Ireland international said: "I would love to be able to jump like that when I'm 40 - I am struggling now!
"He looks after himself and it shows from his performances. He has been fantastic for the club and hopefully he can keep this form going. The fans, the players, expected it to be 4-3. It was an unbelievable save from Schwarzy. Credit to him.
"Berba is fantastic. What can you say? Two goals - man of the match. You give it to him and you know he will do something special. He did something special today and it got us a point.
"He is a quiet man. But when it comes to on the pitch he is so clever. He is experienced and really helps us - particularly the younger ones. He is a top-class player."