Martin Jol feeling positive despite Fulham claiming one league win since Christmas
Fulham boss Martin Jol says he is feeling positive ahead of Saturday's Premier League clash at Manchester City.
Last Updated: 19/01/13 2:31pm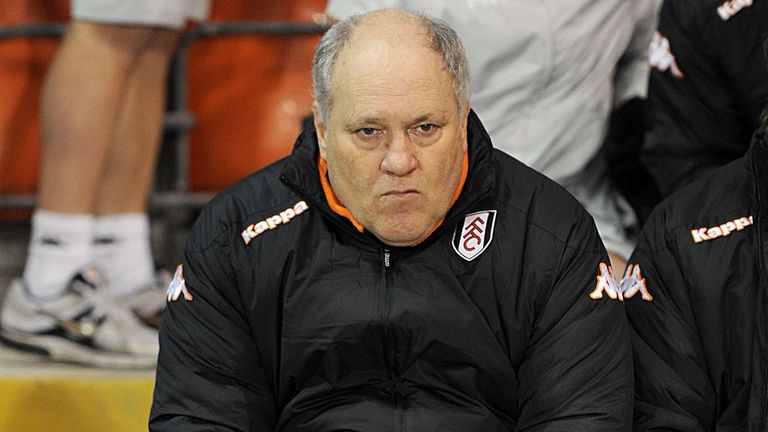 Jol's men head to the Etihad Stadium to face the reigning champions, before taking on league leaders Manchester United a week later.
Placed 13th in the Premier League table ahead of the weekend's fixtures, Jol has high expectations for his Cottagers, despite only one league win this year.
"We are still unbeaten in January," he said.
"We have won two away games at West Brom and Blackpool and two draws against Blackpool and Wigan, so it is not alarming.
"The only thing is if you compare us with last season we had an unbelievable spell after Christmas and if the league had run for six months we would have finished in the top five.
"We would like to bring in one or two players in the next couple of weeks but if not I feel that we are strong enough to get points.
"We had 52 points last year but with different players. For example, Clint Dempsey was scoring all of our winning goals."
Fulham's upcoming fixtures have left Jol reflecting on recent results at Craven Cottage, as he said: "I have said it before - it would be better to get the points against the Wigans of this world and Southampton, for example.
"We had two draws and that was disappointing because you can't expect a team like Fulham to rack up six points against United and City, but every point we get there would be a bonus so we will fight for all the points."
Jol also risked upsetting City supporters ahead of Saturday's meeting by claiming they were "a bit lucky" to win the title last term.
"I feel that they are in a similar position to what they were before - all of the top three clubs," the Dutchman said.
"They have to fight for everything and last year, of course, they were a bit lucky - (to win it) on the last day, in the final seconds.
"And maybe it could be the same (this season) because it was quite exciting. There is not a lot between teams like City and Manchester United.
"They are out of Europe but they can live with it and focus on the league now so that is one advantage they have got over United."