Fulham midfielder Bryan Ruiz hails teamwork after beating Tottenham
Fulham midfielder Bryan Ruiz claims the 1-0 win over Tottenham was not just about Dimitar Berbatov.
Last Updated: 18/03/13 3:19pm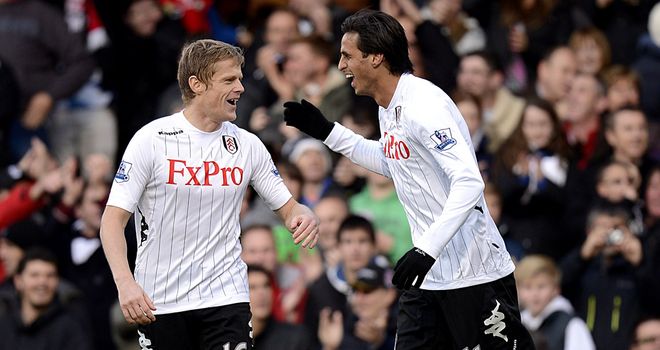 The Bulgarian netted the winner against his former employers at White Hart Lane - but Ruiz is adamant that the rest of the team deserve a share of the credit.
Ruiz said of Berbatov: ""People talk a lot about Berbatov, and we agree that he is a good player, but it is team work, and he also thinks about that.
"He is doing good, but all the team is doing well, playing good from behind and that is one thing he cannot do on his own.
"It is great to play alongside him, but it is about team-work. We showed that against Tottenham when we defended very well, Berbatov's best quality is not to defend, so all the players did a great job and also used the qualities that Berbatov has."
"We believe more in ourselves now, sometimes we did not get the points we deserved, but we have changed our mentality, are doing well on the field and defending hard.
"After this victory, we can now be looking at the top 10 places, which was what we were thinking about at the beginning of the season.
"We had a bad period, but now we are back in business, so will try to finish in the top 10."