Fulham's greatest?
Who has been Fulham's best manager? Sky Sports is launching a vote to discover the finest boss in the history of each current Premier League club and we want your opinions
Last Updated: 07/08/13 1:26pm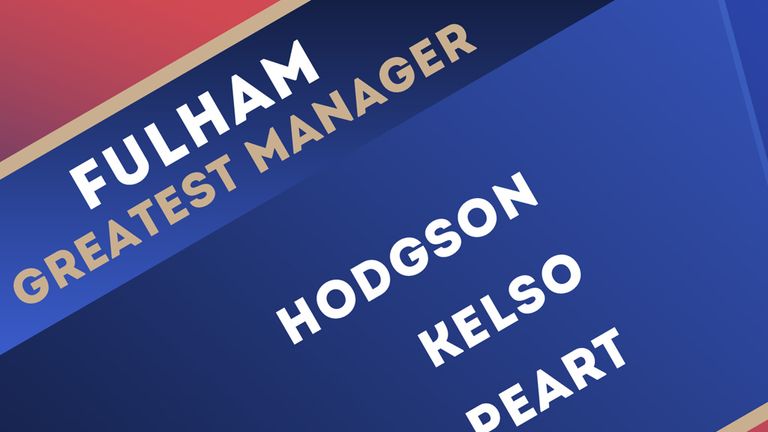 Whether it is looking at recent success or the previous achievements through history, Fulham have a history of which they can be proud. Managers have, of course, been central in defining the way events have unfolded and now we want to find the best of the bunch. Sky Sports are looking for find the greatest manager in Fulham's history and we want your vote. Choose between Roy Hodgson, Phil Kelso and Jack Peart and have your say. We will announce the winner in the week commencing 12th August.
Roy Hodgson (2007-2010)
The now-England manager famously led Fulham to a Europa League final in 2010, where they suffered a 2-1 defeat by the mighty Atletico Madrid. Hodgson had steered Fulham away from bottom place in the Premier League when he first took over in 2007 before going on to then record a highest finish in their history of seventh place in 2008/09.
Phil Kelso (1909-1924)
The Scot is Fulham's longest serving manager after 15 years in charge in the first quarter of the 20th Century, spanning World War One. During his time in charge, Kelso kept Fulham in the Second Division and was considered a success as a result. He was known for his strict style of management and later served as chairman of the Football League Managers and Secretaries Association.
Jack Peart (1935-1948)
Peart helped Fulham to the FA Cup semi-finals in 1936 and secured regular mid-table finishes in the Second Division in his time in charge between 1935 and 1948. Like Kelso, his spell with Fulham crossed a World War but he remains an iconic figure at the club. Peart died in the job in 1948 and the team he built went on to win the Second Division in the same season under his successor, Frank Osborne.
Who do you think has been the greatest manager in Fulham's history? Have your say via the feedback form below and vote in our poll. Voting closes on 9th August