Martin Jol slams Fulham boo-boys after Bryan Ruiz jeered off in Manchester United defeat
Martin Jol has told Fulham fans to lay off Bryan Ruiz after seeing the playmaker jeered off against Manchester United.
Last Updated: 04/11/13 8:04am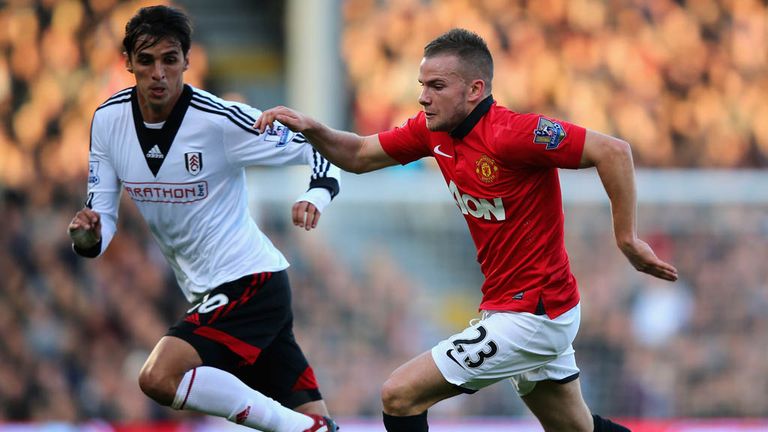 Saturday's 3-1 defeat to United was Fulham's third loss in a week and a section of supporters turned on the players, as well as their boss.
Ruiz, signed to much fanfare from FC Twente in 2011, has struggled this term and his 74th-minute substitution was met by loud cheers, followed by boos.
"It was very disappointing," Jol said of his treatment. "That (kind of abuse) is something I can cope with because I know football. I have been involved in 1,300 games and I know if people are not happy, they will give you stick.
"Bryan is a player that came back from Costa Rica's game against Mexico; he scored, they won 2-1 and he goes to the World Cup.
"Then to come here and get that sort of contradiction (in reception): over there he is a hero and here they boo him off the park.
"That is very, very frustrating for him and very disappointing for me. I wanted my supporters to stay behind my players.
"He is an unbelievably nice person so I had to whisper a few words in his ear.
"I said he is arguably my best player and that he should know that. It doesn't mean anything but at least a couple here, and I am one of them, trust him."
Jol admitted the player had struggled for consistency in the Premier League but warned fans not to hound him out of Craven Cottage.
"Sometimes he is my best player and sometimes gets caught on the ball," Jol added. "There are a few other players in the past like him and I think one of my heroes is Glenn Hoddle.
"People never gave him credit because sometimes he was a bit like Bryan. They have to get used to him and if they don't get used to him, we've got a problem because I need Bryan Ruiz.
"Maybe they don't need me. They need Bryan Ruiz, believe me."
On his own job security, Jol said: "(Owner Shahid Khan) always says positive things to me. I am always waiting for a few critical remarks and comments but he does not do that."