Chris Coleman has backed Rene Meulensteen to be a Fulham success
Rene Meulensteen can be a success at Fulham, believes former manager Chris Coleman.
Last Updated: 04/12/13 5:24pm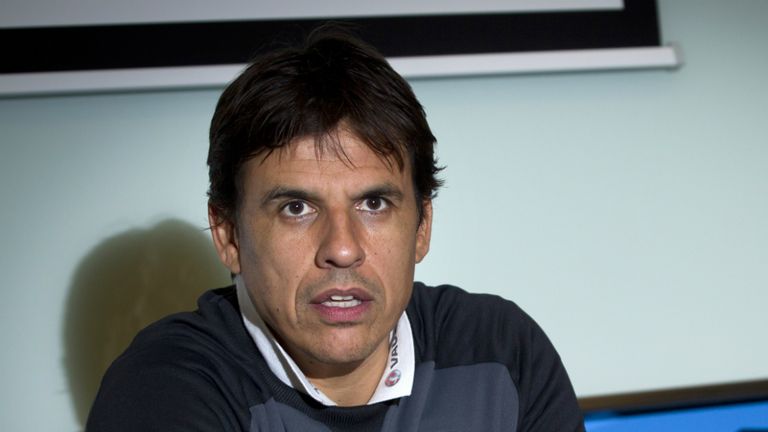 Jol paid the price for a poor start to the season which has left the Cottagers in the bottom three of the table.
"Coaching and managing are two different things," said Coleman, who made the step up from player to manger with Fulham in 2003.
"But he's a good man Rene and he'll have the respect of the players. I've seen him coach myself and there's not many better than him on the coaching side of things.
"Managing is different but he's going to have help from Kit Symonds, who is my assistant with Wales and someone I've known for the last 25 years, and a better man you can't get.
"When you're a manager, you need someone beside you that you trust, obviously knows the game and is honest, and in Kit Symonds he's got one of the best there for sure.
"Fulham are in the bottom three; he's not a magician Rene, he's an excellent coach and he is a good man.
"It may take him a little bit of time; I think as soon as they get the next win, he will try and build on that.
"I hope it goes well for him, I'm sure it will. It's a great club Fulham, it deserves to be in the Premier League, real fantastic set of supporters, I was there for 10 years myself as a player and manager.
"I hope and pray they get out of the bottom three and I hope Rene will keep them up this year, I think he will and then maybe they can build on that.
"But they need to be a little bit patient with him at the start, they just need to get that first win."
Wales winger Gareth Bale has discovered his best form for Real Madrid in recent weeks and netted a hat-trick in the weekend win over Real Valladolid.
Bale was hampered by injuries when he first arrived at the Bernabeu, but Coleman believes it was only a matter of time before he proved his worth to the Spanish giants.
"That's football. Last month after El Clasico he was under pressure, but a month later he is playing well and everyone realises what a good player he is and that's good news for everyone," said Coleman
"His talent was never in doubt. He is a fantastic player - one of the top players on the planet.
"But he is the same player as last year. He will not all of a sudden do ridiculous things to warrant that price tag.
"He has to be himself, enjoy his football and keep playing the way he can and the way he has over the last two or three years.
"He is a super player, he is a great guy to work with and I think he is comfortable in Madrid, which is important and he is enjoying his football."