Transfer news: Fulham boss Rene Meulensteen praises striker Dimitar Berbatov
Fulham boss Rene Meulensteen has saluted striker Dimitar Berbatov after the striker was linked with a January move.
Last Updated: 12/12/13 4:55pm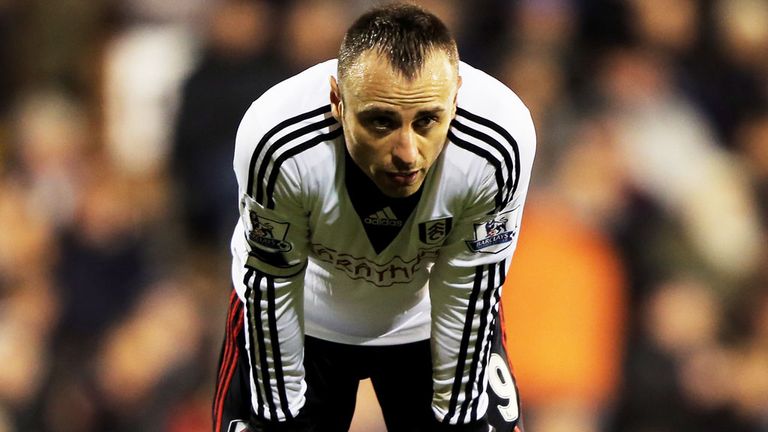 The recently-appointed Cottagers manager is aware of comments made by the Bulgarian striker's agent, who claims Berbatov is unhappy at Craven Cottage.
Meulensteen admits there will be talks about Berbatov's future in January but denies he has told the Bulgarian he can leave.
Fulham are currently struggling in the relegation zone of the Premier League but Meulensteen is happy with Berbatov's recent displays for the club.
Meulensteen said: "What I said is I will not stand in anyone's way if they wanted to leave.
"With Dimitar I had a good chat when I took over and he has been as good as gold looking at the performances he has put in against Tottenham and Aston Villa.
"With him we are going to really focus on the four upcoming games we have got and from the performance levels that I have seen I am sure everyone will agree if Dimitar plays at that level he will be a very important player in the games to come."
Regarding the transfer window, Meuelensteen added: "We will discuss when we get there.
"For me it is a challenge as a manager. I have known him (Berbatov) for many years, I have worked with him for a long, long time and football will always be about opinions.
"The proof is in the performances on the pitch and so far I can only be pleased with how it has been going."
Medicine
Fulham travel to Everton on Saturday where they have never won in the league and Meulensteen believes they can build on the 2-0 win last weekend against Villa.
"There is only one medicine really and the best medicine is a win in football matches," he said.
"Good performances build confidence, good results build confidence. The team is in very good spirits. It is not always easy to turn on and off but do the basics right, build from there and hopefully more good results will come our way."
Meulensteen carved his reputation as a coach working alongside Sir Alex Ferguson at Manchester United and he hopes that experience will serve him well as he tries to steer Fulham out of the relegation zone.
He admits it has been a culture shock, moving from one end of the league table to another.
Meulensteen said: "I have come from an environment when it was just picking up three points week after week. Target setting is important, it gives a focus and a purpose. But I make sure the players concentrate on the performance rather than the outcome."
The Dutchman is a big admirer of Everton manager Roberto Martinez who has taken the Goodison club to fifth place in the league playing expansive football.
He said: "Everton has always been a good side. Every manager has his style and he has definitely put an ingredient in there which made them believe that to play in an attacking style can get results against top teams.
"They play more freely, a bit more adventurous. Roberto likes to experiment with different line-ups. He does like to have an attacking slant to it and it has worked. Look where they are in the league and how they have done against the big teams. They are there for a reason."
Striker Darren Bent has recovered from a slight hamstring problem and will be available for the squad travelling to Everton.