Mohamed Al Fayed believes Fulham owner Shahid Khan has not spent enough
Mohamed Al Fayed insists Fulham's relegation should be a wake-up call for current owner Shahid Khan.
Last Updated: 13/05/14 9:33am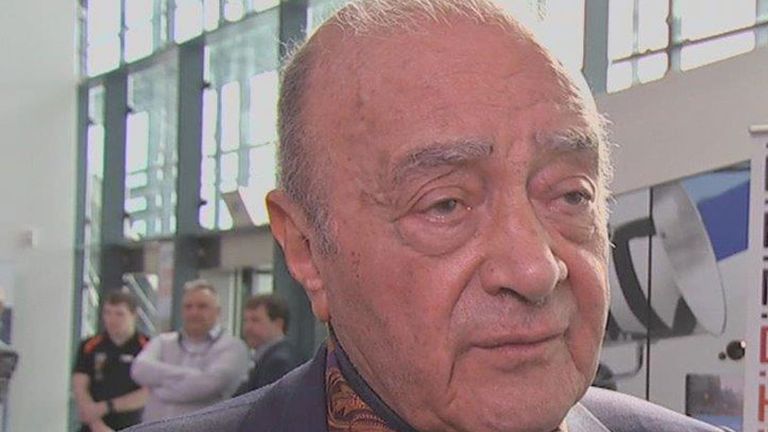 Fulham's 14-year stay in the Premier League came to an end last Saturday as a 4-1 defeat at Stoke sent the Cottagers into the Championship.
Al Fayed was Fulham's owner for 16 years before he sold the club to Khan last summer and has suggested his successor did not spend enough on the squad, despite the arrival of £12m striker Kostas Mitroglou in January.
Manager Felix Magath, the third man at the helm during a turbulent season, wants to oversee the rebuilding process and Al Fayed has urged Khan to make more transfer funds available in the summer.
"I hope he has woken up now," Al Fayed told Sky Sports News. "He's a capable guy, he's a rich man, he owns another football club in the United States and understands about the game and about sport.
"You had to spend money to really reach, as I have done, from the Third Division to the Premier League.
"15 years is a lot of effort. I feel sorry, but I had to make a decision, because I'm not a young man any more. I have so many grandchildren who I have to spend time with and I feel the guy has woken up anyhow."
Magath had overseen some encouraging recent results, but was unable to save a side which had also struggled under predecessors Rene Meulensteen and Martin Jol.
When asked if he sympathised with the fans, Al Fayed said: "Of course, it was my life for nearly 20 years.
"They love the club, they love what I'm doing and I feel sorry for them, but I hope the guy has woken up and just really gets on and tries to inject more talent and more money to bring the club back."
Jackson statue
Al Fayed presented the statue of late singer Michael Jackson to the National Football Museum in Manchester after it was removed from Craven Cottage.
And Al Fayed believes the Cottagers would still be in the top flight if Khan had not had the 7ft 6ins sculpture removed from outside Craven Cottage last November.
He said: "This statue was a charm and we removed the luck from the club and now we have to pay the price.
"When (Khan) asked me to move it I said, 'you must be crazy'. This is such a fantastic statue which the fans are crying out for.
"But now he has paid the price because the club has been relegated. He called me because he told me he wanted Michael to return. I told him, no way."
The much-mocked statue was commissioned by Al Fayed and installed at the back of the Hammersmith Stand in 2011.
Al Fayed was a friend of Jackson and the singer even paid a visit to Craven Cottage when he attended a match between Fulham and Wigan in 1999.
But following Al Fayed's decision to sell the club to Khan, he was told it was surplus to requirements and would have to be removed.
Speaking about its presentation to the National Football Museum, Al Fayed added: "This is a great place visited by thousands of people and I am very proud to present them with one of the greatest artists and singers in the world.
"Michael is a fantastic example for everyone. He came from nowhere and showed fantastic determination to be a superstar and I am very glad that he is now in this great institution for people to enjoy."