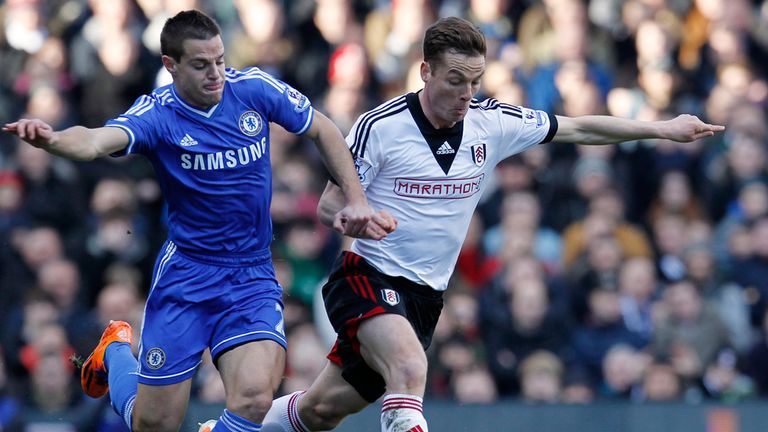 Scott Parker has no regrets at having snubbed a switch to Queens Park Rangers last summer in favour of joining Fulham.
The 33-year-old was offered the opportunity to link up with Harry Redknapp at Loftus Road in 2013 as QPR sought to bring experience into a squad readying itself for Championship football.
Parker knocked back the approach, choosing instead to spend another season in the Premier League at Craven Cottage as he headed for the exits at Tottenham Hotspur.
That campaign proved to be a disastrous one, with Fulham tumbling out of the top flight and passing play-off winners QPR on their way into the second tier.
I'm not one to look back, and sure, QPR was an opportunity for me - but I made a decision and I stick by it.
Scott Parker
Had he chosen differently 12 months ago, Parker would now be ready to re-join the elite – but he insists he is happy to be offering his experience to the Fulham cause as they endeavour to bounce back at the first time of asking.
He said in the Fulham Chronicle: "I'm not one to look back, and sure, QPR was an opportunity for me - but I made a decision and I stick by it.
"I signed a contract and unless anybody high up tells me different, I'm here and I'll try my hardest to push the club in the right direction.
"When a club gets relegated, there are a lot of changes, and it's in the back of the mind the call will come that the club are looking to move you on, but that hasn't been the case here."
Parker admits the past year has been difficult for all concerned at Fulham, with testing experiences on and off the field delivering poor results and three changes of manager.
He added: "I left Tottenham and a year down the line I never envisaged I would be playing in the Championship.
"I agree that with the squad we had: the Taarabts, the Berbatovs, Hangelands, Duffs and Sidwells – we had massive experience and very good footballers.
"But when you're involved in a relegation battle, things affect people in different ways.
"When you're down, there are stresses, and without wanting to go on too much, when a new manager comes in he brings a new playing style, philosophy and coaches and new structures. To adapt to that as quickly as possible is sometimes very difficult."