Elbow surgery for Pollitt
Wigan goalkeeper Mike Pollitt is expected to quickly return to fitness after an elbow operation.
Last Updated: 27/04/11 11:53am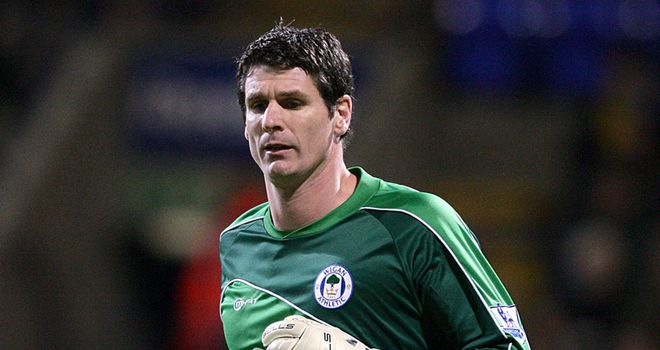 Wigan goalkeeper Mike Pollitt is expected to return to fitness before the end of the season after undergoing an elbow operation.
The 39-year-old required a similar procedure on his other elbow last season and is now facing another two or three-week period of recovery.
Despite making just one Premier League appearance this season, Pollitt has been the regular deputy to Ali Al Habsi.
However, the out-of-favour Chris Kirkland replaced him on the bench for Saturday's defeat at Sunderland in order to allow the operation to take place on Tuesday.
"Mike went in for surgery to clean up the joint around his elbow," manager Roberto Martinez told the Wigan Evening Post.
"It was just a matter of wear and tear - he had the same problem with his other elbow last year and that was corrected very quickly too.
"It was a straightforward operation and he should be back in the next two or three weeks."
As a result, England Under-20 goalkeeper Lee Nicholls has been recalled from his loan spell at League One Sheffield Wednesday.