Martinez expecting nerves
Roberto Martinez admits nerves are to be expected from Wigan as they look to stay in the Premier League.
Last Updated: 20/05/11 5:21pm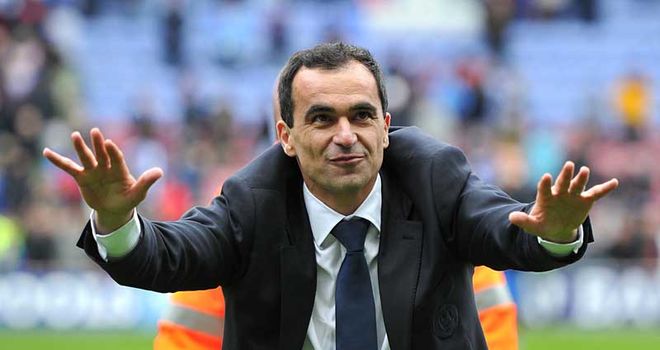 Wigan manager Roberto Martinez admits that nerves are to be expected from his side as they look to save their Premier League status.
The Latics go to Stoke on 'Survival Sunday' hoping to save themselves from relegation, having fought back dramatically with a late 3-2 win over West Ham to keep them in the hunt.
Wigan sit level with Blackpool and Birmingham on 39 points, whilst Blackburn and Wolves stand just one above them in one of the tightest relegation battles in years.
Martinez's team are second from bottom, but their rally against the Hammers showed their appetite to fight for their lives, and the Spaniard believes this will only help their cause.
"We need to learn from last Sunday," he said.
"In certain aspects of the performance we were affected by the occasion and the importance of the game.
"We need to remember we are human beings and sometimes the significance of the three points can affect your performance.
"We need to be well aware of the threat and of how good Stoke are at home.
Two finals
"Before the game against West Ham we had it clearly. Our league was over, we had played 36 games. We had to learn a lot from that period and now we were facing two finals.
"We have gone through the first final and now there is the other half to go."
On the face of it, Wigan would seem to have the most favourable final-day fixture as they face a Stoke side who now have little to play for following their FA Cup final loss.
Blackpool must travel to champions Manchester United, Birmingham are away at European hopefuls Tottenham and Wolves face Blackburn at Molineux.
But Martinez is expecting a fierce contest at the Britannia Stadium as the Potters look to end the campaign on a high after also losing heavily to Manchester City in midweek.
"Going into Sunday we know that Stoke have had a phenomenal season, probably one of the best in their history," said Martinez, who has a fully-fit squad available.
"They have found a winning formula and Tony Pulis has found a group of players who are very successful in what they do.
Difficult
"At home they are a very difficult team to play against. Unless we are as good as we can be in the way we play, we are not going to have a chance to compete against a side like Stoke."
It has been suggested Blackpool could unfairly benefit if Manchester United, who play in the Champions League final next week, choose to field a weakened side but Martinez does not want to be drawn into that argument.
He said: "Whenever you are facing a team of the stature of Manchester United you know you are in for a tough game.
"All these stories of going to a place where you are not going to find difficult opposition are from people who are not involved in football.
"You are not part of such a fantastic football club unless you are a winner and have real pride in what you do."
While Martinez is focusing only on his side's task, he admits he will find it impossible not to try to keep up to speed with events elsewhere on Sunday.
"Yes, you have to," he said. "In those situations you need to have as much information as you can.
"But we need to understand that we are second from bottom. In our position we need to make sure we give everything we have got to try to get the three points."