Martinez receives apology
Referees' chief Mike Riley has apologised to Roberto Martinez after Wigan's controversial defeat by Chelsea.
Last Updated: 10/04/12 7:07pm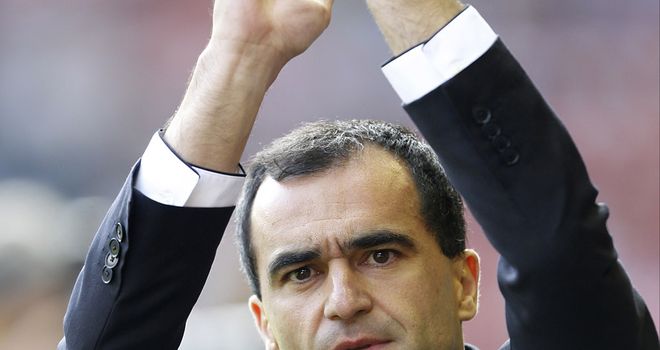 Referees' chief Mike Riley has apologised to Roberto Martinez after Wigan's controversial defeat by Chelsea.
The Football Association has also confirmed the Spaniard will not face disciplinary action over post-match comments in which he claimed Wigan were "robbed" and the performance of an assistant referee was "disgusting".
Relegation-threatened Wigan were on Saturday beaten 2-1 in a stormy Premier League clash at Stamford Bridge after Branislav Ivanovic and Juan Mata struck from apparently offside positions.
Martinez spoke to Riley, of the Professional Game Match Officials Board, the day after the game and says he was told the body accepted mistakes were made.
"He just said he understands that at the level of refereeing in this league, they should get that call right. I think that is a very honourable way to face mistakes," said Martinez.
"We are all capable of making mistakes and it is about how you react to them."
Respectful
Martinez was strong in his criticism of the officials, particularly assistant Dave Bryan, after the game, but, having spoken to Riley, had not been expecting FA action over his remarks.
He said: "I think they praised me because they were quite surprised I held myself back and I was so respectful."
Bryan was subsequently stood down from Tuesday night's game between Blackburn and Liverpool.
Martinez said: "I think we all know mistakes happen, I am the first one to accept that.
"The problem is when you get two calls in two similar situations, and one of them is so clear, knowing the experience of the linesman - it is really tough to take.
"We are not looking to get people punished - anything retrospective to the event - but unfortunately we were stopped from getting the reward we deserved.
Unlucky
"It is a difficult place to go for a positive result. We need to accept on this occasion we weren't lucky enough to get the result. There were calls you expect to get right at our level."
Wigan, who remain in the bottom three, feel they have been on the wrong end of too many injustices this season.
Blackburn were in November awarded a goal against them in a 3-3 draw from a corner that was incorrectly taken and in December striker Connor Sammon was wrongly sent off in a 5-0 loss to Manchester United. The Latics successfully appealed against the Sammon dismissal.
Martinez said: "We have had that sense of injustice too many times this season. But you need to look deeper than the results.
"Psychologically a result at Stamford Bridge would have been fantastic, but we can still see through it and look at the performance.
"I don't want it to come across that we are blaming the referee for our position - not at all. It was just hurtful to be on the back of two decisions at such a crucial time."