Roberto Martinez is hoping Wigan can win at Manchester United for the first time
Wigan manager Roberto Martinez is hoping to complete a famous double when he takes his side to Old Trafford.
Last Updated: 14/09/12 9:00pm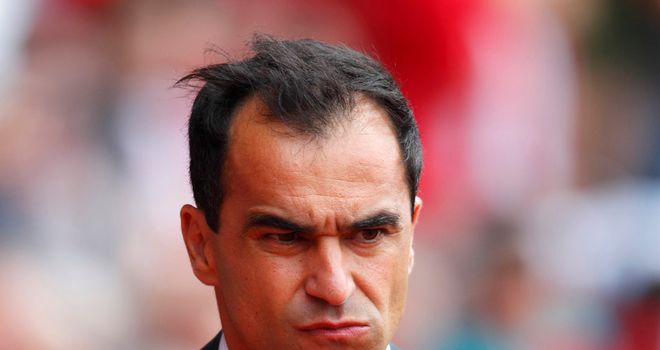 The Latics stunned Manchester United with a 1-0 victory at the DW Stadium last April and Martinez reckons they have a much better chance of upsetting the odds now.
Martinez's side won at both Arsenal and Liverpool last season, and the Latics boss wants his players to repeat the level of performance from the home win over the Red Devils.
"You need to have a visual picture. Any big achievement starts with a dream," Martinez said.
"It really helps when you have something to fall back on. Last year's performance at the DW Stadium was everything we wanted in our performance.
"We were in a very difficult position, we needed the points, and in a way we forgot who we were playing against. That's something we need to bring into this season's encounter at Old Trafford."
However, the Spaniard still expects a tough battle and admits it will be difficult to return home with any points to add to the four Wigan have already won from the three opening fixtures of the season.
"Old Trafford has been a really difficult place for us to perform and be ourselves," the Wigan boss said.
"We're looking at seven visits, 24 goals conceded and only one goal scored from a dead-ball situation - a stoppage-time penalty from Leighton Baines - so it shows how difficult it is to be yourself.
"But if there is a moment to be mentally ready to face that I think it is just now.
"The last game against United we got a well-deserved win. It wasn't an accident, it was a well-deserved performance and even though we know going to Old Trafford will be very different, it is a challenge that we look forward to.
"It's a great opportunity to write new history at this football club. We went to Anfield and got a win. We went to the Emirates and got a win. We went to Stamford Bridge and we were proud of our performance.
"Playing against United it can be a really tough test but we need to be ourselves and have a visual picture of last season.
"It will help from a mental point of view but clearly we need to be our best and be as strong as we can be individually."