Wigan striker Arouna Kone admits he would like to play Champions League football again
Wigan's Arouna Kone says he dreams of playing in the Champions League again but is enjoying life at the DW Stadium.
Last Updated: 24/11/12 1:15pm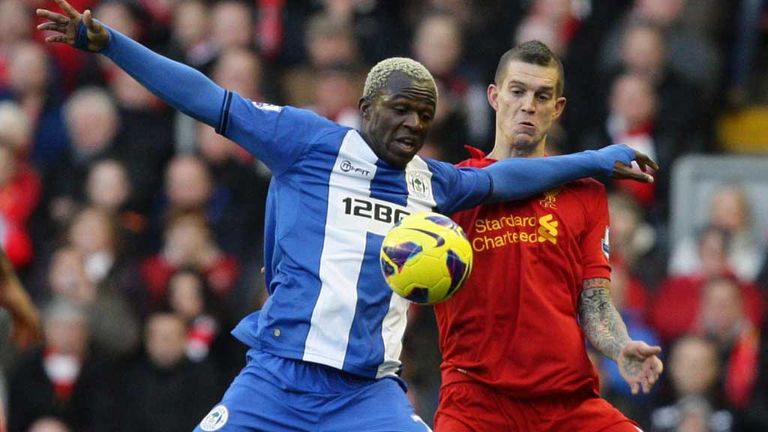 The Ivory Coast international, who joined from Levante in the summer, has played for clubs in five different countries and enjoyed stints in Europe's top club competition with PSV Eindhoven and Sevilla.
Kone admits he would like to play Champions League football again but is pleased with how things are going at Wigan, where he has scored four goals in 12 Premier League appearances.
"I am happy doing what I'm doing, and I will go where my destiny takes me," he told The Guardian.
"Of course I would love to play in the Champions League again, I have great memories of those nights, as anyone would.
"You never know what will happen in the future and the challenge here in the present is quite a different one, but I knew what I signed up for and I want to give it my best shot."
Kone was linked with a number of clubs in the seasons preceding his Wigan move, including Tottenham and Aston Villa, but the striker says the Latics' interest was the most solid.
"There were whispers about other clubs being interested but I think a lot of it was just rumours and echoes," he added. "Whereas I always knew Wigan's interest was firm."
Concrete
He added: "Martínez made it clear he would like to sign me two or three years ago and stuck to his word.
"Wigan may not be the biggest club in the Premier League but their offer was the most concrete, and I was happy to follow my destiny and come to play in England."
Manager Roberto Martinez has urged Kone to show Wigan what they will miss when he goes to the Africa Cup of Nations in January.
"We're going to miss him, but we want to enjoy Arouna's performances until January," he said.
"He is capable of at least doubling his goals total before he goes. He is getting stronger with every game."