Howe hails 'role model' Martinez
Bournemouth boss Eddie Howe believes Roberto Martinez is the perfect role model for aspiring young managers.
Last Updated: 04/01/13 2:15pm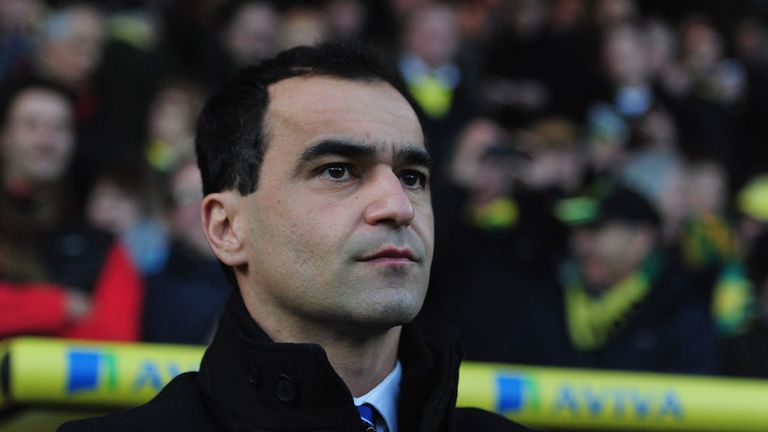 Bournemouth boss Eddie Howe believes Roberto Martinez is the perfect role model for aspiring young managers.
The 35-year-old prepares to put his side's 16-game unbeaten run on the line against the Premier League outfit on Saturday.
The Cherries are yet to taste defeat since Howe returned from Burnley to manage the club for a second time back in October. That impressive streak has lifted them into the npower League One promotion hunt and through to the third round of the FA Cup for the first time in seven years.
They head to the DW Stadium looking for an upset against a Wigan side led by a manager who made his name playing an attractive brand of passing football in the lower leagues before making the step up.
"I think he (Martinez) is an excellent role model to aspiring young managers," Howe said. "He has got his clear beliefs and philosophies and doesn't waver from them.
"He is a gentleman off the pitch and conducts himself very well. I am a big fan of his and the jobs he has done at every club he has been at.
"I can't speak highly enough of him and it will be good to see him after the game as well. I like him as a man and he is certainly someone I will be speaking to."
In contrast to Bournemouth's fantastic form, Wigan have won just one of their last eight matches and are expected to rotate their squad for a home match against a team two divisions below them.
But Howe knows that whatever side Martinez selects will play the style of football that has become their manager's trademark.
"I expect a good football match, he said. "I expect them to play the same way they always do. They've got their philosophies and a clear way of playing so we've got to be prepared for that challenge.
"They've got Premier League players and a big squad of players to choose from. Roberto will want to win the game. He may mix the squad up, but whatever team he puts out will be very competitive.
"We are going to go there and try and cause them problems as well. I don't think we can go there and defend for 90 minutes, we've got to make sure we do our bit and play the way we do. I think that is very important."
After travelling in their numbers to watch the 0-0 draw with Brentford on New Year's Day, thousands of Bournemouth supporters are expected to make the 460-mile round trip to the DW Stadium and their players share the fans' excitement.
"The lads are really excited about the game and can't wait to test themselves against quality players," Howe said.
"I think it is a really good game for us, a really good challenge. They are a very good established Premier League side with an excellent manager and a really good way of playing so it will be a real test.
"We've got to make sure we are competitive and organised and stick to our game plan."
Howe's team have little to worry about on the injury front and the only real selection dilemma for the young manager is which goalkeeper he will select.
Former Peterborough keeper Shwan Jalal played in their victories over Dagenham and Carlisle in the earlier rounds, but has played second fiddle to the Cherries' current number one David James in the League.
"I've got two quality goalkeepers and I wouldn't be phased by playing either of them," Howe said.
If the 42-year-old is given the nod it will be his 59th appearance in the competition, three of which have come in finals themselves.