Wigan manager Roberto Martinez confident of Premier League survival
Wigan manager Roberto Martinez insists his side can still climb comfortably away from the Premier League drop zone.
Last Updated: 29/01/13 7:43am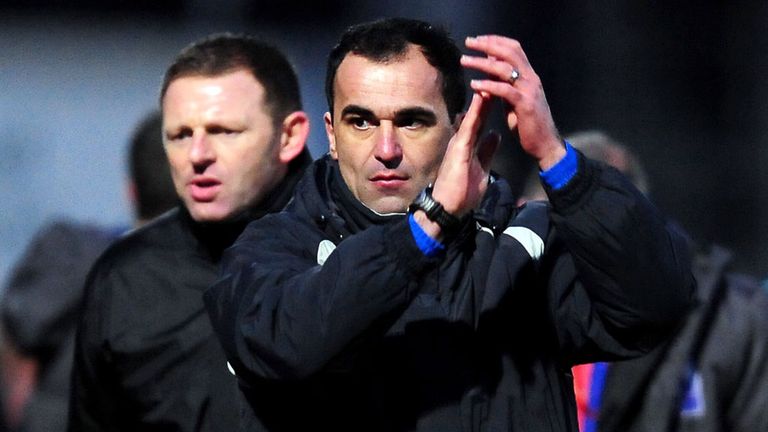 The Spaniard predicted another ferocious fight to the end of the season for the bottom 10 clubs as they bid to secure their top-flight survival.
Martinez, who has engineered the Latics' safety in the closing stages of the last two seasons, believes this year will see a much tighter finish with several teams battling each other to pass the magic 40-point barrier and secure safety.
"This year the bottom 10 positions are really open," said Martinez. "I know that now people are looking at the table but I don't think it shows the reality of the teams that are involved.
"There will be a lot of twists and turns from now until the end of the season. When you go to he last third of the league season, where you are in the table is just a starting point, but I do believe it is going to be a ferocious fight until the end of the season.
"A lot of teams are going to get involved because if you don't get the 40 points that you need you are going to be fighting to avoid relegation. There are ways of winning football games and everyone will have a say from now until the end of the season."
Martinez knows he needs to find reinforcements quickly if he is to give his side the best chance of securing their Premier League status as Wigan's injury list keeps on growing.
He has been linked with moves for both Wolverhampton Wanderers defender Roland Zubar and Sebastian Coates of Liverpool, but while Martinez refused to confirm his interest in particular players, he admitted there is business to be done.
He said: "I don't like to get into positions where you are desperate to bring one player in in the final week.
"Unfortunately we lost Ivan Ramis in the last away game in the league against Fulham. That's been a position we are already short so it's been something that's forcing us to look around and see if we can find the right personality to come in, but not just any player or any signing.
"We want to be in a position where we can take advantage of the window as the injury surprised us a little bit but my focus goes to trying to get all of the players fully fit and back from injury and trying to play the last third of the competition."