Jordi Gomez believes Wigan can achieve FA Cup success and Premier League survival
Jordi Gomez believes Wigan are capable of achieving FA Cup success and Premier League survival this season.
Last Updated: 09/03/13 12:01pm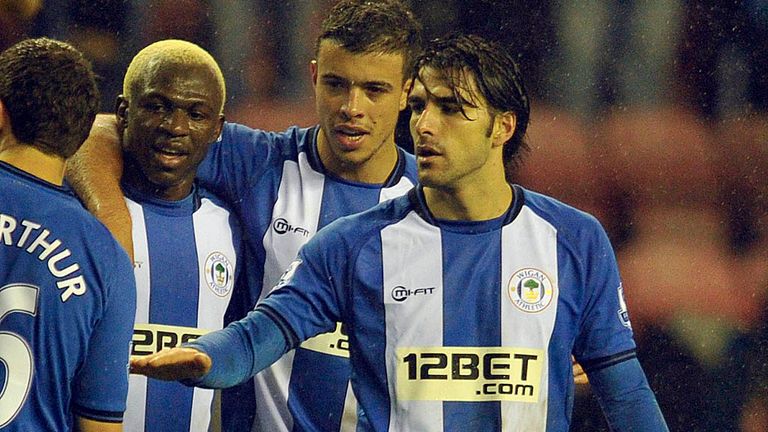 Roberto Martinez's side have enjoyed a strong cup run this season, but they remain in a relegation battle in the league, with just goal difference keeping them out of the drop zone.
Gomez has been ever-present in their FA Cup campaign so far and the Spaniard says that Saturday's game at Goodison Park is just as important as any Premier League game.
"We have two objectives for the rest of the season, but I believe we can achieve both," he told the Wigan Evening Post.
"After the game, we have 10 matches left in the league and we will need to improve our performances to stay in the division.
"But we have been here before and we have always managed to get out of trouble, so I think we can do the same and remain in the Premier League.
"As far as the cup is concerned, we are only two games away from the final, and we are determined to keep going in both competitions for as long as possible. It's never boring at Wigan - we are always fighting for something and we won't stop until the end of the season.
Wigan were beaten 4-0 at home to Liverpool last Saturday and Gomez says that the Everton game gives them the opportunity to return to form.
"After the disappointment of last weekend it's a great chance to bounce back and reach Wembley," he added.
"We'll be giving our best to try and get through to the semi-finals, and hopefully it will be enough. I don't know why but we have seemed to produce better performances and results away from home this season, and we want that to continue at Everton.
"It won't be easy because they are a great side and they are having good seasons in both the league and the cup."
He continued: "All the boys will be ready for the challenge and we all believe we can win the game. For the fans, it's an enjoyable competition, they get very excited for the games and that translates on to the pitch because we want to win for them.
"Even when we have been away from home, which we have been for all but a couple of our away games, they have given us great support and we have appreciated it.
"This weekend's game at Everton will be no different and with them being a Premier League side, it's even more important they get behind us and help us to a positive result."