Wigan chairman Dave Whelan won't question their selection at Everton
Dave Whelan insists that he will not question Roberto Martinez's team selection at Everton in the FA Cup.
Last Updated: 12/03/13 10:57am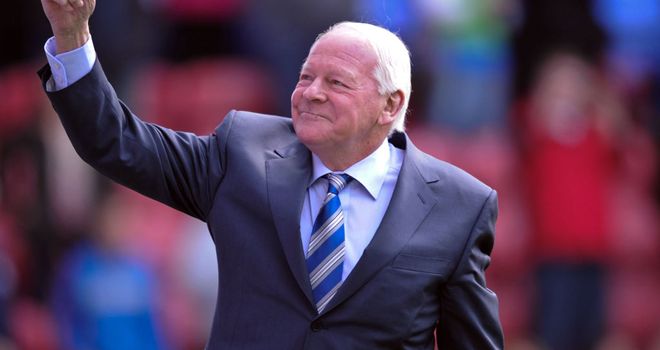 Martinez has used his squad players during their cup run to date, and he has suggested that he will again do that at Goodison Park on Saturday in their quarter-final clash.
Whelan says he has no issues with that, admitting: "Sometimes you do think, 'He's not taking the FA Cup seriously enough here', but we're in a fight against relegation.
"I don't know what team he will play at Everton, I never ask. I never put pressure on. That's the manager's job.
"But Roberto does regard the FA Cup very highly. He was the first Spaniard to score in the FA Cup for Wigan, at Runcorn in 1995. We drew 1-1. I was there."
Whelan, who won the FA Cup as a player, is delighted with the cup run they are currently on - their best for 18 years.
"I don't know whether anybody has played at Wembley in a cup final and then been a chairman of a club to get there. To say it would be exciting would be to underestimate every single thing," he said.
"This is a rugby town, or was a rugby town, and Wembley is a second home for Wigan rugby league team. Wigan Athletic have been there twice in the play-offs, but to go to an FA Cup final would be very special.
"It's something you'd be proud of the whole of your life. I would never part with my Cup final medal, even though it's a loser's medal. Anybody who downgrades the FA Cup has never played in it. But you should get a bigger reward for winning, something that would make Premier League clubs take notice.
"When you consider you get around £3million for winning the Cup and next season you will get between £50m-£60m for being in the Premier League, it's peanuts. There have to be changes.
"But we're not in the FA Cup for money. Premier League clubs are in it for pride - it's the FA Cup. You can't take that away."
Martinez insists that he is happy to be in the last eight of the cup, which has given his squad a boost.
"This is the first time we have been successful in cup competitions and that is down to the readiness of the young players," he said.
"We put a lot of emphasis on the 18- to 21-year-olds trying to develop them. Previously we couldn't compete when we made two or three changes.
"It has made the squad bigger and stronger. I can rotate. It shows the work we're doing behind the scenes is paying off. Our main prize is surviving in the Premier League, but we can enjoy this cup game because the youngsters coming through.
"We made a profit this year for the first time and we will be moving into a new training ground, which is massive for the club. That enables us to keep growing. A certain percentage of the first team squad should be made up of players from the area, with foreigners who bring something different."