Alan Wiley backs Mark Halsey despite his failure to spot Callum McManaman's challenge on Massadio Haidara
Former Premier League referee Alan Wiley has offered his support to Mark Halsey on Sky Sports News.
Last Updated: 18/03/13 1:18pm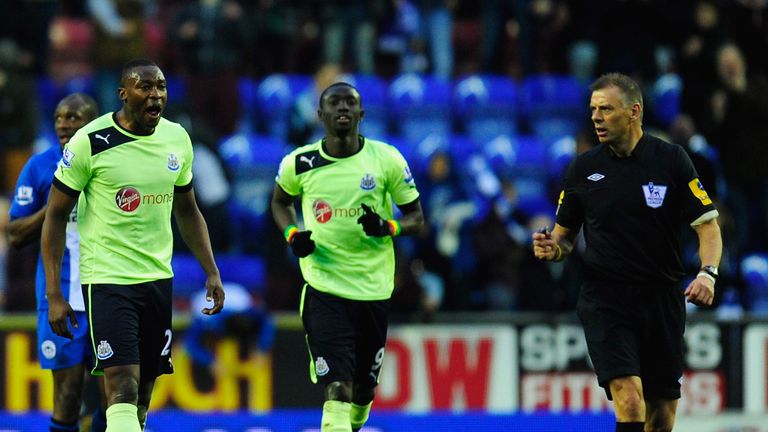 Wigan striker McManaman was not even cautioned by referee Halsey, who later admitted he failed to spot the challenge on France U21 international Haidara during Athletic's 2-1 win at the DW Stadium on Sunday.
Newcastle manager Alan Pardew was outraged by the tackle and his Wigan counterpart Roberto Martinez promised McManaman would apologise to Haidara.
But speaking on Sky Sports News, Wiley insisted Halsey was not to blame for the oversight as he was unsighted at the time of the incident.
"From the referee's point of view, he is in the position you would expect him to be," said Wiley.
"It's just one of those situations where at the moment the tackle is made, a player runs along Mark Halsey's path which then blocks his view of the challenge, so Mark doesn't actually see the challenge.
"When the ball goes out towards the touchline, Mark will probably think McManaman has played the ball because he cannot see the challenge as it is.
"It is a one in a thousand situation where at the opportune moment, a player runs across his path and unfortunately, that (the foul) gets missed."
Bad feeling
Pardew said after the match: "It is an awful challenge. The pictures speak for themselves. I thought it was a bad challenge and I was 60 yards from the incident.
"The players knew because they were on top of it and there was a lot of bad feeling about that incident when it goes unpunished. He (Halsey) said 'If I've missed it I apologise' - that was at half-time."
Martinez defended the character of his player but admitted that it had looked a bad challenge.
He said: "I can't really comment too much because I haven't seen the action but I can guarantee that Callum McManaman is a young man full of talent and in his debut probably showed the enthusiasm that you expect, but he's not a malicious player."