Shaun Maloney admits Scotland's confidence dented following Wales defeat
Shaun Maloney admits Scotland's confidence is at an all-time low following Friday's World Cup qualifying loss to Wales.
Last Updated: 23/03/13 6:13pm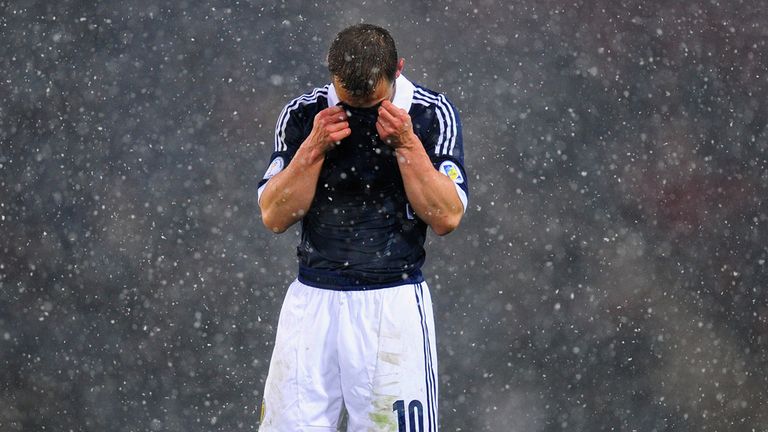 Scotland, who now lie bottom of Group A, led at the break but two goals within 93 seconds from Chris Coleman's side following Robert Snodgrass' red card saw Wales claim a 2-1 win at Hampden Park.
Scotland have just two points from their five qualifiers and new manager Gordon Strachan has a major task on his hand to lift his players ahead of his first away match in charge against Serbia.
Maloney said: "It's a very low dressing room. The last 20 minutes, when we were down to 10 men, it was very difficult to even get near the ball.
"The more results go against us confidence will be dented. We have just lost 2-1 at home in a must-win game so it's a pretty low dressing room and it's going to be pretty difficult to pick everyone up for Tuesday.
"The next couple of days it will be difficult to get any sort of positives. After a couple of days we might find the odd one. Grant Hanley played particularly well for us in one of his first matches.
"For the first 15 minutes Wales were dominant and after that we kind of got to grips with it. That might be a slim positive for us."
Scotland's two remaining home games are against the unbeaten top two, Croatia and Belgium, and Maloney is aware they need to improve.
Maloney said: "It's obviously been a terrible start. It's a bit cliched but we just have to think about the Serbia. We obviously have to improve and just try to get a decent performance.
"There has obviously been a lot of disappointment with the start to the qualifying campaign and it will be hard to get out of that.
"Obviously you do feel the pride of the nation and we want to finish as high as we can. But we just literally need to take it to the next game and we need to improve."