Wigan captain Gary Caldwell willing to play through pain in FA Cup final
Wigan captain Gary Caldwell is willing to play through the pain barrier to lead the team out in the FA Cup final.
Last Updated: 11/05/13 4:36pm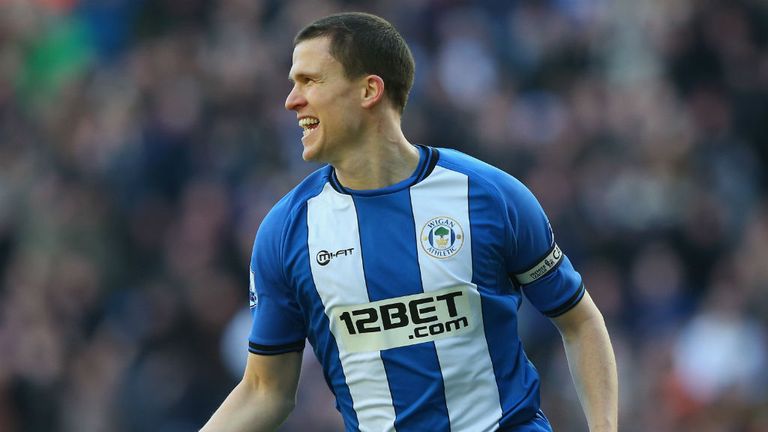 The Latics take on Manchester City at Wembley on Saturday but Caldwell is struggling to be there as he battles the chronic hip injury that has disrupted his season.
"I've had to manage a difficult injury," the 31-year-old Scot told the Daily Record. "The hip I had surgery on three years ago has been playing up for nine months.
"I had a steroid injection last week which has helped it a little bit so hopefully that will help me get through the next few weeks. It looks like I'll need surgery on it again over the summer.
"I have not trained properly for six months. When I do I have to take an injection and I get two of them to help me through games.
"It's been hard because I want to contribute, I want to help, but if you are not 100 per cent there's no point being on the park.
"The gaffer has been great. He said he'll use me whenever he feels I can contribute and help the team. Hopefully, he feels that way on Saturday.
"I can't do the hip any more harm in the long term. The damage is done. I will see the surgeon again at the end of the season to discuss the next step.
"It's all about what kind of mobility I'm going to have with it - and what pain I can take. It's wear and tear on the joint.
"But I would take an injection to play on Saturday. I'd do it any week if it takes a bit of the pain away and means I'm able to help the team. I'm happy to do that."
Massive
Caldwell knows it will be a huge occasion on Saturday and has dared to dream about what it would mean to lift the first major trophy in Wigan's history.
"It would be really big to lead the side out at Wembley," he added. "When you're at a club and you're doing something no one has done before in that club's history, it's a massive thing.
"The semi-final was the first Wigan had been to and we came through it. Now we have the chance to win the FA Cup. It would be a phenomenal story.
"This is a unique club. I've played for Celtic which is a huge one on a world scale. But I came here to play in the Premier League, knowing it was a smaller club.
"It's a family club, a friendly club and there are people who have been here since the days of the old stadium in the lower leagues.
"To do something the club hasn't done before would be huge. We're giving people who have been involved for 30 years a massive day out at Wembley. That's special."