FA Cup final: James McArthur keen for Wigan to focus on Wembley
James McArthur believes Wigan can put their Premier League relegation worries to one side at Wembley on Saturday.
Last Updated: 11/05/13 4:36pm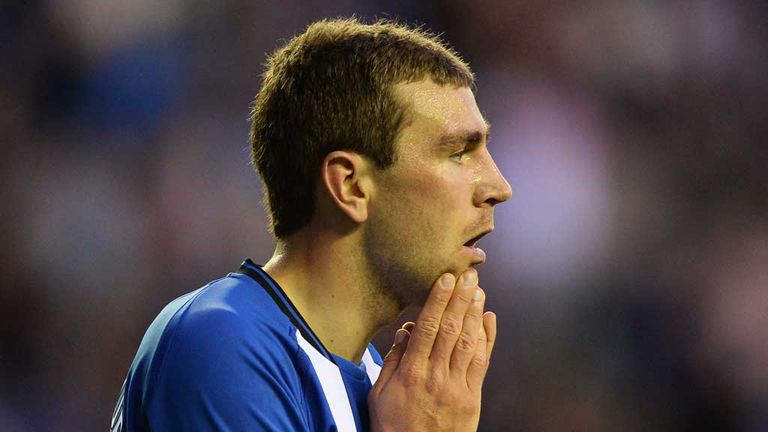 When Wigan return to league action against Arsenal at the Emirates on Tuesday, they could be six points adrift with only two matches left to play, but McArthur is keen to focus on Wembley.
He said: "We've done it all season. It's been a really good distraction for us. We've built momentum from the FA Cup and hopefully we can do it again.
"We want to win the cup and we want to stay up. It's three massive games and we feel we can go and do the club justice and try to win the FA Cup first.
"There isn't any reason we can't win all three. We're a good side, we can beat anyone on our day, we've proved that. We obviously need to stop conceding so many goals to have a chance because Manchester City are a very good side.
"But we're confident we can go into the match and influence our style of play and try to get the win.
"We know it's a big occasion but it's just another match.
"We've played against Manchester City this season, we've not beaten them but away from home I thought we were sensational.
"It was one of our best performances of the season and we narrowly lost. So hopefully we can put that performance in with a better result.
"It's always good to be an underdog. Staying up as well, everyone expects us to go down, which we like. We like to try to prove people wrong, and hopefully we can do it this year again."
The semi-final victory over Millwall was a first experience of playing at Wembley for most of the Wigan squad, including McArthur.
The 25-year-old, who joined the Latics in 2010 from Hamilton Academicals, has been a fan of the FA Cup since watching Eric Cantona score a late winner for Manchester United against Liverpool in the 1996 final.
He said: "As a kid you never really think you're going to be playing in the FA Cup final. It's a brilliant cup, it's one of the most famous cups out there.
"There's millions of people watching it all over the world. As a kid I was one of them. All the way through I've watched the FA Cup final so to play in one will be excellent.
"Being from Scotland, Hampden was the major final. As a kid watching Rangers and Celtic finals was always excellent. That was the real dream. You never really think you're going to be in England but I'm here now and I'm looking forward to the match."