Wigan chairman Dave Whelan believes Roberto Martinez will stay at the club
Wigan chairman Dave Whelan thinks FA Cup-winning manager Roberto Martinez will still be at the club next season.
Last Updated: 12/05/13 11:16am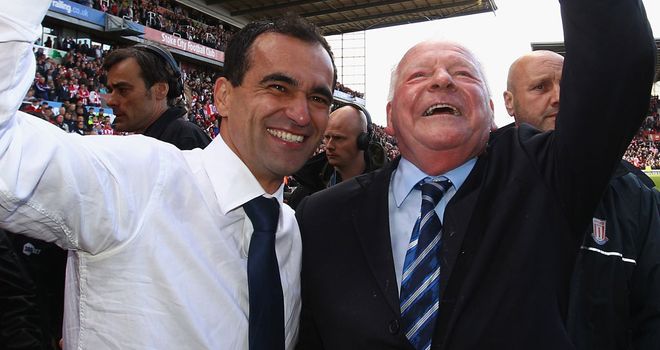 Martinez is thought to be among the leading contenders to replace David Moyes at Everton with the Scot switching to Manchester United at the end of this campaign to succeed the retiring Sir Alex Ferguson.
"Roberto will make his own mind up. Roberto consistently says 'I love Wigan, I will stay with Wigan'," Whelan said.
"When the time comes he will leave for a big club, I have no doubt about that. But I think he might just stay with Wigan."
Wigan beat Manchester City to win the FA Cup yesterday with an injury-time header from Ben Watson.
However the club now face a fight for Premier League survival, with games against Arsenal and Aston Villa to come over the next week.
While Whelan celebrated until the early hours, Martinez and the players had to keep their champagne on ice.
"We outplayed Manchester City across the whole of the game yesterday. Our boys totally deserved it," added Whelan.
"We had three of our mainline players injured and up to eight players off this season. That is why we have struggled. We would have been in the top half of the league without a problem.
"You saw the quality of Wigan yesterday, you saw the quality of Roberto Martinez and what he puts into the team.
"We have two massive games. Last night they went home and knew they had to go straight to bed. We have a big game on Tuesday and a massive game on Sunday.
"The boys are dedicated to the massive task of keeping Wigan in the Premier League. The big fight is to stay up."