Wigan Athletic chairman Dave Whelan says Owen Coyle is the best man for the job
Wigan Athletic chairman Dave Whelan says that Owen Coyle was the outstanding candidate for the managerial post.
Last Updated: 14/06/13 5:59pm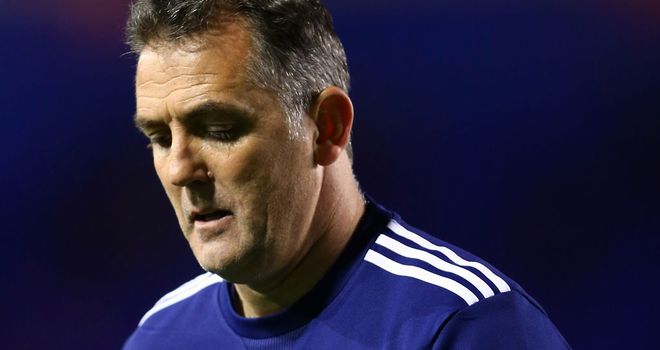 Coyle is set to replace Roberto Martinez following the Spaniard's departure to Everton last month, as the Latics suffered relegation to the Championship despite lifting the FA Cup last season.
Coyle was sacked by Bolton Wanderers last October after a string of poor results, but Whelan believes he has got the right man to take Wigan back into the Premier League.
"Wigan fans will remember him well - he got Burnley promoted and they'll also remember him at Bolton," he told Sky Sports News.
"He had a tough time at Bolton. Some of the fans will remember that, I'm sure they will, but he has come across as being by far and away the best for the job that I've seen and I've had five or six very, very good applications I've got to say.
"He has enthusiasm to do the job. He seems to trust me, he's got a belief in Wigan Athletic and I can feel that. He's done it all before, he took Burnley to the Premier League.
"He didn't have quite the same success at Bolton but sometimes these things go against you and I've got to say, of all the candidates who applied, I just thought he was the best.
"It should all be signed up today. His agent's here and present to get the deal done and he's operating from tomorrow morning."
Excellent choice
Steve McClaren was heavily linked with the post and Whelan says he did take the former England boss' application into account before making his decision.
"Steve was a very, very good candidate and it was a very difficult choice between three or four of the candidates who applied," he said.
"The application list was over 40 so it has been a trying time and I'm not right all the time but what we've got to try and do is get it right most of the time.
"With Owen, I just thought he was an excellent, excellent choice. If anyone can get us back up, I think Owen is the man to do it."
Wigan face their first season outside of the top flight in eight years and Whelan says he is hoping for a quick return.
"That is the total priority," he said. "I know we're in Europe, but the priority is to get Wigan Athletic back in the Premier League in the next two years and that's what I said to him."