Sky Bet Championship: Brian McDermott praises Leeds after beating Wigan
Leeds boss Brian McDermott hailed a return to a winning mentality after a 2-0 success over managerless Wigan.
Last Updated: 04/12/13 11:34pm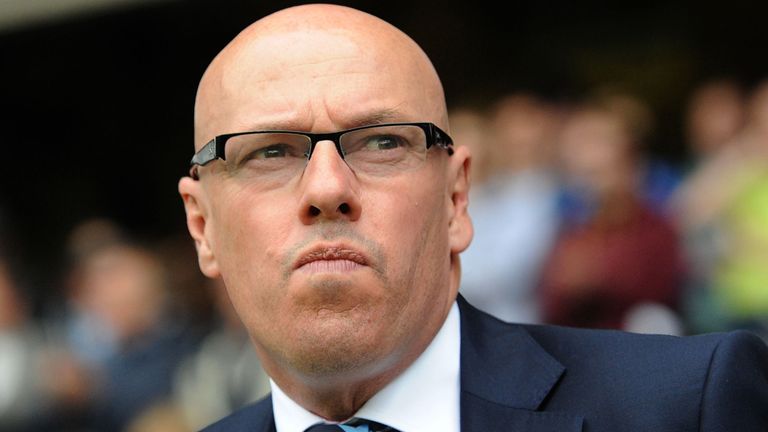 Ross McCormack bundled home his 14th goal of the season in the 15th minute and then saw his 77th-minute free-kick evade everybody in the penalty area before bouncing inside the far post for his eighth in five matches.
McDermott felt leading goalscorer McCormack and goalkeeper Paddy Kenny made the difference against Wigan, for whom caretaker-boss Graham Barrow took charge of his first match since Sunday's departure of Owen Coyle.
"Paddy made a good save at 1-0 and Ross McCormack obviously, I thought he was terrific, he led the line very well and we were solid," McDermott said.
"They had a lot of the ball in the second half, but I didn't think they really got behind us and two good finishes by Ross, that's it in a nutshell.
"We're trying to build a winning mentality, we've played better this season, but we're learning how to win together."
McCormack's double secured Leeds their fifth straight home win, but they remain two points adrift of the top six following Saturday's defeat at Blackburn.
McCormack's second goal initially appeared to have come off Jason Pearce, but replays confirmed the defender did not get a touch, although McDermott revealed he later tried to claim it.
"He did!" McDermott said. "I think it's Ross's goal, that's what I've said to Ross and to Jason, so they're having a fight downstairs about it!
"To me it looks like Ross's goal."
Wigan were not without their chances, particularly in the first half.
Barrow, who had a 14-month spell in charge as manager back in the mid-nineties, saw Leeds goalkeeper Paddy Kenny bravely thwart Will Keane twice in as many first-half minutes.
Kenny first beat Keane to a ricochet in the penalty area and then brilliantly blocked the on-loan Manchester United striker's point-blank snap-shot.
Barrow said his side created enough chances to have scored at least one goal and that failing to convert had been "the story of the last few weeks".
"The disappointing thing for me was our lack of finishing power," he said.
"With the people we've got we should be doing better, but I can't fault the lads in how they applied themselves.
"It was always going to be a difficult game, but as the away team we created enough chances to score a goal and that might have been enough.
"It's been a difficult week as you can imagine, but in training I can't fault the players for effort.
"The three chances we had were great chances and that's probably been the story of our last few weeks really.
"Probably the brightest player on the pitch would have scored them if he had a black shirt on, McCormack.
"I think he would have scored for us and we've got to look at that very closely over the next few days."
Barrow said he expected to be in charge at Millwall again on Saturday and that he would "take it from there".
Barrow added: "We've got a strong squad, but it was thrown together in the summer and there's something lacking that we can't put our finger on and we need to put that right."