Roberto Martinez believes Wigan paid the price for their FA Cup success
Everton manager Roberto Martinez insists Wigan were 'punished' for reaching last season's FA Cup final.
Last Updated: 16/02/14 11:57pm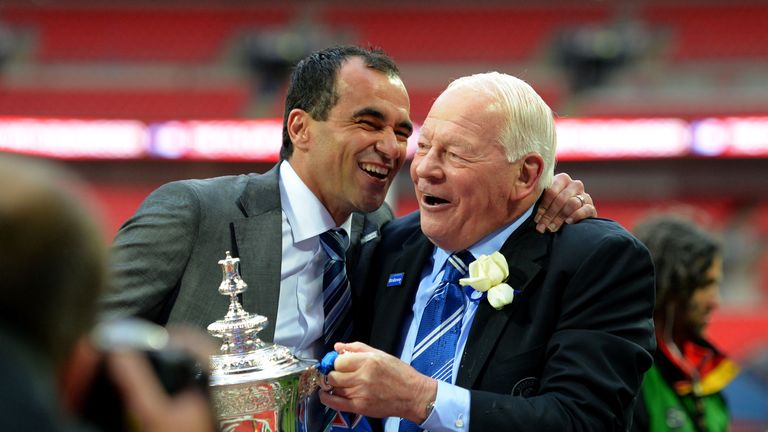 Martinez was in charge of the Latics when they pulled off a historic victory over Manchester City at Wembley, but their achievement was overshadowed by the club's relegation from the Premier League.
Wigan's success in the competition meant they had to cope with a fixture pile-up and their fate was sealed by defeat in a rearranged match at Arsenal, just three days after the final.
This season the FA Cup final has been moved back to its traditional place after the last week of the Premier League season, but Martinez feels this move came too late to help Wigan.
"The final got in the way of the final week," said the Spaniard, who is preparing the Toffees for Sunday's fifth round clash against Swansea.
"Obviously you shouldn't rely on going into the final week to achieve your aim in the league.
"For any club going into the final week of the season, whatever your aim is in the league, you shouldn't get punished for playing in the FA Cup final, it should be the opposite - it should be a moment to treasure and enjoy.
"I don't think it was a really helpful issue when you had to play the FA Cup final the weekend before the final games of the season, which meant we had to play three games in the final week.
"I think that (making the final the last match of the season) is the right thing for every club involved in both competitions."
Everton face leaders Chelsea in the league after this weekend's home clash with Swansea, but Martinez does not think this fortnight is season-defining for his sixth-placed side.
"The longer you get involved in a cup competition is always a defining moment because every round you are fighting to stay in the competition," he said.
"Staying in the competition further than the fifth round is always significant but there is nothing different because we want to finish the season as strong as we can.
"It is not just doing well over the next two weeks, that is not good enough for our standards.
"The work we have done in the last eight months has got this squad ready with an incredible competition for places.
"Now we are starting to get every player back and we are in the best moment of the season to face the final third.
"The season will not be decided on the success of the next two weeks."