Fight to the finish
Wigan boss Uwe Rosler discusses handling a heavy workload and challenging on multiple fronts.
Last Updated: 07/04/14 6:24pm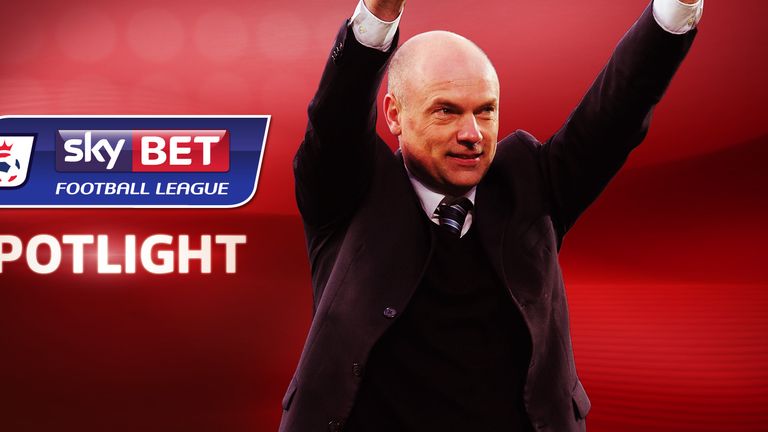 The 2013/14 campaign is now entering the final straight, with divisions beginning to take shape.
Here at Sky Sports, we will look to take you to the very heart of the Sky Bet Football League over the coming months, with our Spotlight features intended to give you a greater insight into the clubs and players that keep us on the edge of our seats.
We hope to bring you the views and thoughts of a representative from each of the 72 teams over the course of the season, with those involved asked to give their take on the division they compete in, the club that pays their wages and those we should all be keeping an eye on.
Wigan Athletic's Uwe Rosler is next into the hot-seat, with the Latics boss taking time out to discuss handling a heavy workload and challenging on multiple fronts with Chris Burton.
How proud are you that since beating Manchester City to reach the FA Cup semi-finals you've managed to keep the focus on the league and lost only one game? It has to be the priority doesn't it?
I think after the City game everybody got fully-deserved recognition in the media and from the public. But we went relatively quickly back to business, and that shows now with where we are in the table. We are where we want to be. There are six games to go and we are totally focused on tomorrow.
You have to be don't you, Millwall are obviously down towards the bottom but they beat Forest away on Saturday and will head to the DW Stadium believing they can turn you over as well?
When you have beaten Derby away and Forest away, I think that shows that they have the right spirit in the camp. They are well known for creating togetherness and have a very experienced and successful manager (Ian Holloway), who knows the league very well and who knows what it takes to sneak out of the bottom three. For us, it's very important. We got a massive result against Leeds, but I felt we weren't at our freshest. We couldn't play the game the way we wanted to play, we didn't have enough energy on the pitch in terms of moving around and giving the person on the ball not one, but maybe two or three options. I think we were a bit lethargic, but I could understand that after what we've been through - especially after last Tuesday when we had an intense game and had to go right to the limit to try and win the game against Leicester. I felt one or two players had not recovered in time on Saturday.
So are you looking to freshen things up again tomorrow - squad management is key at this stage isn't it having played so many games?
Definitely. I think the rotation principle is one that I have brought into this club and got us to where we are now. The players are totally buying into that. On the back of a very important result on Saturday, when we defended for our lives in the last 5-10 minutes, it's important that we bring players in who want to prove a point to me and have to prove a point to themselves and also put themselves in a position for next Saturday (against Arsenal), for what is another massive game for us. At some point you can't wait for something to happen, you have to be proactive and hopefully we can get that into the group for tomorrow and get the energy back and pressurising and pass the ball around with the right tempo - because I think we will have to do that to get a result against Millwall.
Does it help that every game now has something riding on it - does adrenalin start getting you through, rather than being stuck in mid-table and just going through the motions?
I think that's fantastic for us now, to have something to play for in the league, which was our main objective, but also in the FA Cup. Everybody tells us that it's not possible, it's not possible and you will suffer, but so far we are proving people wrong. The players are proving people wrong. I think everybody in our camp knew he was needed and knew he had an important role to play in the run-in on both fronts. I know we are massive underdogs for next Saturday, but tomorrow our priorities are absolutely clear and we want to win. Hopefully we can dictate our game to Millwall and not let Millwall dictate their game to us - like Leeds did to us on Saturday, especially in the second half.
You said you brought the rotation principle with you when you came in, was there anything else you needed to tweak or was it just a case of getting confidence back into the players?
I think it was about getting confidence back into the players and, not only them, into the whole club. It was not only the players suffering when things weren't going well - the staff, administration, our supporters - I think it was very important to set the momentum in the whole club. That momentum, you only get that when you're winning football games. I wanted to make sure that we had a philosophy in place and also how we conduct ourselves every single day when we come into work. Obviously everybody bought into that, and I think that is absolutely important and necessary for the success of the players, the staff and everybody. Everybody had to be 100 per cent committed and that has shown in the fact that we have achieved our goals.
You inherited a talented group and have a supportive chairman, that helps to make your job easier doesn't it and left you with a bit of fine-tuning to carry out?
It was a bit more than a little bit of fine-tuning. The club had lost six games in a row before I came, I think that is the reason that I am now at Wigan Athletic. If there wasn't that much to do, I wouldn't be here. I think it was important that this club, with a massive name in this league, gets now into the play-offs, through the play-offs and tries to achieve its goal. When I came, the club was far away from achieving that goal.
You're nine points clear of seventh with six to play, are you setting any targets regarding what it might take to keep you in there?
I'm not that person. I have been asked about where I see the games to win and the points to take us over the line, but I'm not really that person. I am very single-minded and take every game as the most important one. We have to treat every game as the most important game in our lives. When we do that, when we're absolutely focused on that, I think our quality will show. If we don't do it, we can face problems. We had problems at home against Yeovil this season, we lost against Doncaster, but they were probably the only two blips that we've had. Apart from that, I think the players have been exceptional in their approach to their job, their application to the job that they have been given, and I think they are enjoying themselves. That shows in the results that we have got.
You have to have that mind-set don't you because, having worked so hard to get into this position, it's important that you maintain momentum and don't stumble over the line?
Exactly. We want to treat every game like it is the last game, we want to win every single game. I think it is the perfect situation for me - players coming back from injury, like Gary Caldwell, Thomas Rogne, Shaun Maloney. They are class players and they haven't been playing as much as they want to. They want to make sure that they aren't overlooked in terms of team selection, in squad selection, and that is why this is the perfect scenario now to select fresh blood for the games when it is needed.
You're obviously hoping that you will be getting Wigan promoted this season, but are you keeping half an eye on Brentford as well - Mark Warburton has done a great job down there hasn't he and could be taking them up?
Yeah. It was very good for the club to keep Mark on to continue the work. I felt he was very comfortable with the players, he knew all of the staff and he kept the same way of playing. He also brought his own approach to it and the team have been in very good shape. They were when I left them and Mark has continued it. I think they are looking very strong, a very good bunch of players with a great spirit in the club. Mark, as sporting director, was very influential in creating that spirit. I had no doubt in my mind when I left the club that the club would get promoted.