FA Cup: Uwe Rosler keen for Wigan to learn from Everton's triumph over Arsenal
Wigan are prepared to take a leaf out of former manager Roberto Martinez's book to plot Arsenal's FA Cup downfall.
Last Updated: 12/04/14 5:31pm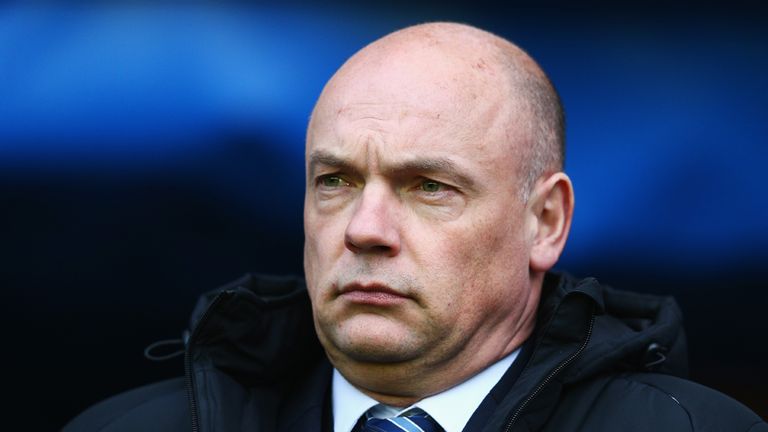 The Gunners head to Wembley with their confidence shredded by a 3-0 defeat to Martinez's Everton on Sunday, when the Merseyside outfit ruthlessly exposed Arsenal's vulnerable side to blow open the race for fourth in the Premier League.
It was a loss which Rosler admitted provided him with "good pictures" ahead of his own side's last-four meeting with Arsene Wenger's team this weekend.
The Latics boss masterminded a 2-1 quarter-final victory against Manchester City at the Etihad Stadium last month and conceded he had emulated Martinez's Wigan, who pulled off an improbable FA Cup final victory over the same team last May.
And Rosler acknowledged one of his predecessors has again solved the conundrum of how to beat elite opposition.
"I watched the game last Sunday and it was another very impressive lesson from Roberto, tactically how Everton approached the game," said the German.
"Not a lot of people focused on how disciplined and how focused Everton Football Club operated in the first 20-25 minutes without the ball.
"Everybody knows Roberto is focused on ball possession but how well the team worked against the ball at the beginning of the game was very impressive.
"There were good pictures for me to learn from and also take one or two things on board, like I did with Manchester City in the last round."
Ex-City striker Rosler first came to play on these shores in 1994, two years before Wenger engineered a cultural shake-up which permanently changed the face of English football.
That is why the Wigan boss has the utmost respect for his foe this weekend, even if a Latics win would see the Gunners staring down the barrel of a ninth campaign without a trophy as well as, for the first time in Wenger's 18-year stint, a place outside the Premier League's top four.
"I am a big admirer of his work," Rosler added of the Frenchman.
"He set a revolution in place in English football in many ways. He put his football club in a very good situation for years to come with the new stadium, the training ground, the squad of players he put in place, young players.
"I'm a big admirer of what he has achieved in English football. I had a few conversations with him and his assistants regarding loan players in January and he was very willing to loan out one or two.
"We have a lot of respect for each other. You forget that for 90 minutes; we want to make ourselves proper opposition and make it as hard as possible for them."
Such is the Gunners' pressing need to secure silverware for the first time since 2005, Rosler admits the pressure is firmly on them, rather than the competition's holders, to deliver a victory at Wembley.
They are clear favourites to win the FA Cup - with Hull and Sheffield United contesting the other semi-final - but that great expectation could translate to further anxiety, something Wigan will look to feed off.
Rosler continued: "For us it would have been better if they had a fantastic result last weekend but they didn't. That creates more pressure on them.
"I don't think they will underestimate us at this stage of the competition. I think they will be expecting a team that is very much on the front foot from the beginning and wanting to win the tie early on.
"The longer we can stay in the game, the longer we can create uncertainty around Arsenal supporters, the better it is for us.
"There is a little bit of unrest there, expectation is sky high and the longer we are in the tie the more difficult it will be for Arsenal."