Football Firsts
Danny Blandy of Spector discusses his newfound love for Sheffield United in his Football Firsts.
By Rachel Griffiths - Follow me on Twitter @SkySportsRachG
Last Updated: 07/11/12 5:14pm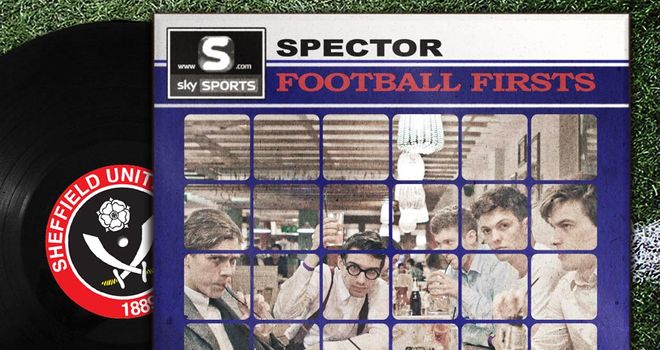 Danny Blandy might have moved away from the Steel City to form part of pop-rock five-piece Spector but the Yorkshire-born drummer has recently gone back to his roots by unearthing a newfound love for Sheffield United.
As Blandy himself is quick to point out, he's far from being a fairweather fan, with the Bramall Lane club still languishing in League One, and insists his glory-hunting days are behind him after blindly jumping on the Newcastle bandwagon in his childhood years.
The drummer, currently touring with Spector as they promote their new single 'Never Fade Away' and debut album 'Enjoy It While It Lasts' ahead of its release on August 13th, found time to chat to Sky Sports about swapping the Toon for the Blades, worshipping Andy Cole and his slightly irrational fear of former Nottingham Forest man Andrea Silenzi.
Newcastle
I was a Newcastle fan from when I was about five until I was around 12. I was so obsessed with them when I was younger. I think if you're not raised by parents who make you go to games and say 'this is your team, this where you're from', you have no concept of loyalty to your city. So it was proper glory supporting when I started to support Newcastle. Even though they never won anything, they were always up there and it was exciting. I didn't go off football but I didn't follow it as much in my teenage years. So I wasn't always a Sheffield United fan but I am now. I always liked them more than Sheffield Wednesday but I only really thought of them as my team when I left Sheffield. I think I got into them because I missed living in Sheffield when I moved away when I was 19, and also my grandma and my brother follows them, so I thought that was who I should support. My family also live in Healy, so Bramall Lane isn't far. I'm not a fairweather fan, because obviously we're not doing very well, but I wouldn't say I'm through-and-through all my life. But I think I'm a fan forever now.
Sheffield United 0 Coventry 0, 12th February 1994
I remember we got free tickets so I went with my brother and all of his mates, who are United fans. I think it was first time I'd ever really heard of football, I was about five. I didn't know what the hell was going on but I wanted to go. We were playing a team in sky blue, so it was either Coventry or Manchester City and we were in the old First Division, which is the Championship now. We were at Bramall Lane and I don't know which stand we were in but I couldn't see a thing. I kept thinking things had happened and saying 'have we scored?' but it was a really boring game and ended up 0-0. Most of my friends when I was younger were Sheffield Wednesday fans and I went to more Wednesday games with my mates - but I never supported them. I'd read magazines during the game and I didn't get involved at all. I could never pretend I was a Wednesday fan because I didn't have any feelings for them.
Andy Cole
It was because he was on Grandstand with the music. If you remember the music to Grandstand, it was some of the most rousing music, even listening to it now it's emotional. On the intro it had a clip of Andy Cole and I remember thinking he was amazing. When I first started supporting Sheffield United, which was fairly recently, it would probably have been someone like Stephen Quinn. When I was younger I did go to some Blades games and my heroes were people like Nathan Blake, and Alan Kelly as well because when I was younger I used to play in goal, so I liked him a lot.
Andrea Silenzi
This sounds horrible now as a grown-up talking about this, but I remember there was this TV show called Captain Planet, it was a cartoon. In one of the episodes, this will have been when I was about four or five, something happened to one of the female characters where she aged quickly and within seconds she became an old woman. It really made me feel funny at the time, it was really scary. It was the kind of thing I'd think about loads afterwards and think 'I hope that doesn't ever happen to anyone I know'. Anyway, I used to get the Merlin sticker book and one of the Nottingham Forest players, Andrea Silenzi, looked exactly like the woman when she'd aged to be like 80 years old. Which is not nice, he's probably a great guy and he's got lovely hair, but I found him really frightening. I don't think I ever saw him play but in the book I never wanted to look at the page that he was on.
1994 World Cup
It was after my first game at Sheffield United so I was just starting to become aware of football, I was about five. It was so exciting; it was on telly every night and the whole family was watching it. It was the one where it was Italy versus Brazil in the final. The strips back then were much more garish, they look really dated now but back then in the heat in America I remember the Mexico goalkeeper's strip looked like disco lights. It was my first introduction to international football and seeing all the foreign players. I don't even know how good that tournament was, I can't remember. I just remember watching the final and that Ireland did well, and that Italy's Roberto Baggio put Nigeria out, which was quite upsetting. I also remember at one point in the final, Brazil hit the post and Gianluca Pagliuca kissed it. That sticks out for some reason.
Meersbrook All Stars
I remember I was about eight years old and I was the goalkeeper but I'd broken my arm so I couldn't play this game against Birley Spa, which was really disappointing. We lost 6-1 or something and I didn't even go and watch it because it was so upsetting not to play. Also, I got injured in training and got a bloody tooth, which is when I thought 'it's a bit dangerous, goalkeeping', so I stopped playing in goal. I then wanted to be a striker, but I wasn't that good. I did get into a team going into year six when their best striker moved to London and I got offered a place. It was the start of summer and I was signed up for next season so I spent all summer on the grass when we went to Spain on holiday imagining my season and scoring loads. But when the season started I played like three minutes every game, I was on the bench all the time. I scored one goal all season and it was disallowed - and it was our manager that was refereeing and disallowed it! I quit at the end of the season.
Newcastle home kit, 1993-95
It had buttons and was a polo style shirt, the usual black and white with McEwan's lager as the sponsor. I also got a really good goalie kit a few seasons later, because I was playing in goal at that point, where the chest was like a Newcastle sunset, with the Tyne Bridge in the background and the Newcastle Brown Ale logo in the middle. I think I've still got it at home actually.
Oasis - What's the Story Morning Glory?
That was the first one I bought with my own money, I went to Virgin with my mum to buy it. My brother had it on tape before but I got it on CD. Then I went on to buy Definitely Maybe and the Garbage album and Ocean Colour Scene. I still listen to it now and it's still amazing.
Spector's debut album, 'Enjoy It While It Lasts', is released on August 13th via Fiction. Visit the band's official website.