FA Cup: Nigel Clough says Hull fans' complacency will fuel Sheffield United
Nigel Clough says Sheffield United will use any complacency from Hull fans to their advantage in the FA Cup semi-final.
Last Updated: 12/04/14 3:08pm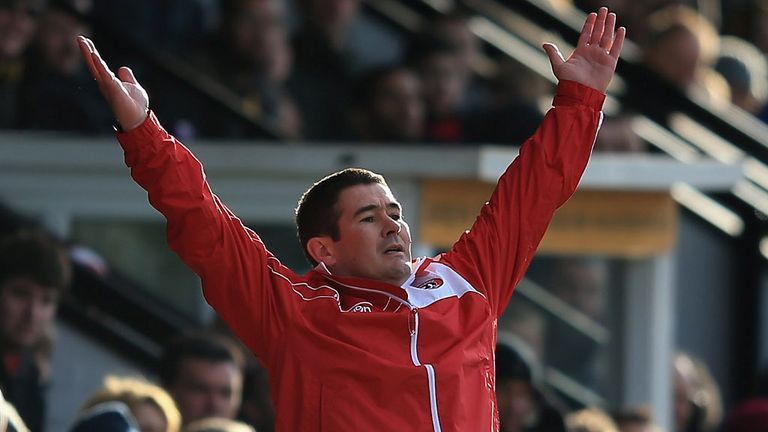 The Blades, currently 11th in League One, are big underdogs for the match against Premier League Hull at Wembley.
Both clubs received a ticket allocation of 32,000 and, while United's share quickly sold out, 5,000 Hull tickets remain unsold, amid suggestions that Tigers fans are saving their money for the final on 17 May.
"We've heard a few stories that the Hull supporters are saving themselves for the final," said Clough, whose side can become the first from outside the top two divisions to reach the FA Cup final in over a century with victory on Sunday.
"Whether that's true or not, we're not sure, but our fans certainly aren't and if we do get there we'll sell out as quickly as we did for the semi-final.
"The supporters are desperate for a bit of success and to see their team on the pitch at Wembley.
"I don't think that will be the thoughts of Steve (Bruce) and those in the dressing room, but I'm sure outside of that there will be one or two supporters thinking that.
"The cost of the whole day and getting down there, it's going to be £100 for the day I would have thought with the ticket and the travel, so you can probably understand it.
"But it might be a risk. Any little thing we can use like that, we'll use because we need everything on our side we can get come Sunday."
United have a poor record in FA Cup semi-finals, having lost their last four, while they also suffered Wembley heartache two years ago when they lost 8-7 in a penalty shoot-out to Huddersfield in the League One play-off final.
"We've been made aware of that record and we are totally disregarding it," said Clough. "I don't think it will have too much bearing come Sunday and 10 minutes past four.
"What the club have done in the past - they haven't been to too many semi-finals either - they've had disappointment in play-off finals.
"But it's a different feeling for the FA Cup semi-final. I think when you go to a play-off final and you've played 48 matches to get there, your whole season depends on that one game.
"But we're going down there to enjoy it and irrespective of the result, we've still had a brilliant second half of the season and we've had a great cup run.
"That won't change whatever happens on Sunday."
Clough also believes all the pressure is on Hull.
"I think playing a Premier League team makes us big underdogs," Clough added. "But somebody told me we have more players who have played at Wembley than they have.
"Without doubt there's more pressure on Hull. They're expected to be in the final on May 17.
"It's brilliant to be in the semi-final and it would be an incredible achievement if we can get to the final.
"We can go down and relax to a certain degree, but without this silly 'we're going for a nice day out' nonsense - we're still going to try and win the game."