Stuck in the middle
Steven Dempsey says that while Reading have found solidarity they still need a creative midfield.
Last Updated: 05/10/11 2:08pm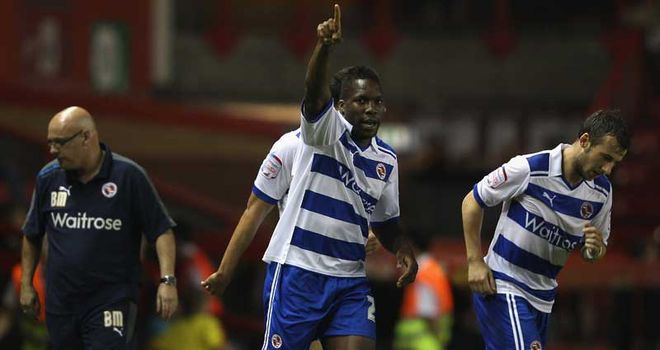 Looking back over the past few weeks, I don't think I find myself alone in trying to work out where exactly the Royals should be heading this season.
The first sixty-five minutes at Ashton Gate suggested that we should be looking at visiting the likes of Scunthorpe next season, yet the jaw-dropping turnaround from that moment on showed the character and ability that we've come to expect from a team consistently pushing for the play-offs or more (although some gratitude should be given to David James for his inspiring second half performance).
Similarly, a point against high flying Middlesbrough is nothing to be sniffed at but, a debatable Church offside apart, it never really looked like we were the goal threat that characterised the second half of last season.
Admittedly, nobody could call four games unbeaten an ominous warning for relegation, and it certainly comes as a relief after a running of embarrassing results against Barnsley and Watford, but it still feels like something is missing; the final piece of the Royals jigsaw.
Last season I think it's fair to say that our defence was our weakest link with full backs of great experience but little pace being exposed painfully in some key games, including that fateful day in May.
However, Brian McDermott has added exactly what was required over the summer and the nerves that plagued so many of us whenever the opposition winger started running at Ian Harte and Andy Griffin have largely subsided. Gorkss has more than capably replaced Mills at the heart of our defence while the latter's brother has added more pace to the fullback role, even if we're still waiting for his set pieces to match those of his predecessor (that could be a long wait).
Perhaps the most satisfying change to our back-four comes in the form of Cummings who has gone from much maligned transfer dud to a committed, agile right-back more than comfortable in his new first team role.
So if it's not defence that's the problem, surely it must be the diminished strength of our forwards prompted by the sale of Shane? Again, I don't think the problem lies here either. Alfie appears to be making good on his promise to maintain his prolific scoring recording and has already show the predatory instinct that we so needed, Church has shown that his ambition to be the next Shane Long is within his grasp with some clinical finishes in front of goal and as for Manset, his thunderbolt against Millwall and his delightful finish against Bristol City have already made him a fan favourite and put him in the running for goal of the season.
We might not have a single star in the mould of Shane, but our strike force holds a variety of styles of striker and, at least for now, they have formed a strong tip to the Reading offence.
If we look back to the end of last season it was the unsung heroes of Leigertwood and Karacan in midfield that formed the impetus for such an impressive string of results. Winning the ball in midfield and playing pinpoint passes to our formidable wingers, they did an excellent job of easing pressure on a stead back four and then creating the space and opportunities to allow our lethal attacking force to thrive.
Sadly, it is in the no-man's land of the middle of the park where we now seem to have lost our way. Leigertwood has failed to recreate his exceptional form since signing permanently for the club and as the lynch pin of our midfield it has become increasingly difficult for the likes of Karacan, still a relatively inexperienced player, and Tabb, whose physical presence is somewhat lacking, to form an effective partnership.
To play two holding midfield players effectively, at least one has to be able to feed the ball reliably to our attacking threats but since the loaning out of Howard to Millwall, I struggle to see where such a player can be found in our ranks.
With a defensive line maturing into a dependable unit and a strike force always capable of scoring goals, Reading will be able to hold their own against most teams in this league and our recent form shows that. But if we want to push for promotion in the manner we did last season we need a midfield capable of linking these capable units together. Only then can we unleash the potential of our young squad.