Championship: Huddersfield boss Mark Robins hails James Vaughan
Huddersfield boss Mark Robins hailed in-form striker James Vaughan, while Charlton boss Chris Powell praised his side.
Last Updated: 17/09/13 11:53pm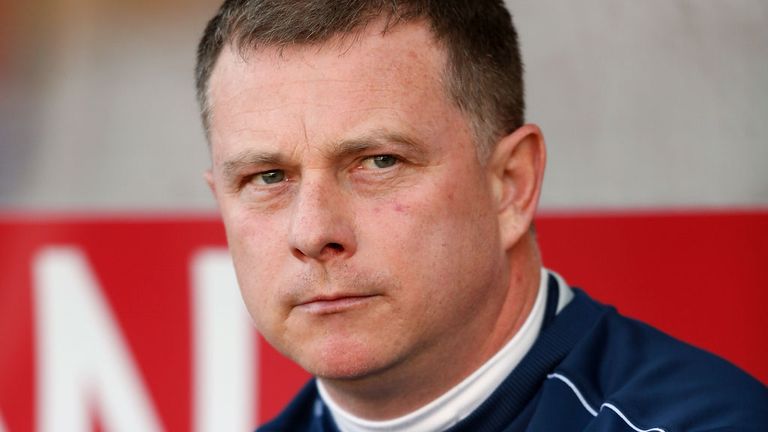 The former Norwich forward scored his ninth goal in as many outings as the Terriers ensured the Addicks' wait for points on the road this season continues.
Vaughan's strike on the stroke of half-time set the home side on their way to victory and Robins insisted the 25-year-old's opener was the catalyst for an improved second 45 minutes.
"Right on the edge of half-time and obviously that changes the mood going into the dressing room," he said. "It gave us key points to talk about.
"But James is doing what he's paid to do. He had a little bit of a dip on Saturday (against Doncaster) and one or two of the lads reminded him about that.
"He's a really good lad. For a manager he's a challenge. We try to challenge them every day and he responds to that.
"He's working hard, and I said to him if he continues to work and he listens, he has the potential to go anywhere - and hopefully Huddersfield Town along with him."
Robins also reserved special praise for Joel Lynch after the defender's stunning 35-yard strike all but sealed the points for the Terriers.
"I think it was an even game up until that point," he added. "The difference was that goal from Joe for sure, he's hit that with everything he's got for sure. I'm surprised it didn't go right through the net because he's hit it so well."
"I think it was a little bit pedestrian up until that point," Robins continued. "I'd like to see us moving better than that, but it's early days.
"You're not going to get the finished article straight away and we're trying to make people play differently here.
"But we've taken four points from the two home games and for me that's acceptable."
Addicks boss Chris Powell was also quick to don his cap to Lynch's strike after seeing debutant Cameron Stewart grab an equally fine consolation for his side.
"It was fairly patchy first-half from both teams," he said. "But conceding the goal when we did right on the stroke of half-time put us on the back foot.
"We responded well, but you can't legislate for a wonder goal really. It was an outstanding goal from Joel Lynch.
"We threw everything at them after that, and it was a superb strike and goal for Cameron. We were chasing it, and maybe we could have pushed them more.
"But I'm sure Huddersfield will be pleased with how they saw it out. However you earn points in the Championship they are always well earned."