Breakthrough year
Charlton defender Morgan Fox discusses senior step-ups and steering clear of relegation trouble.
Last Updated: 02/04/14 2:35pm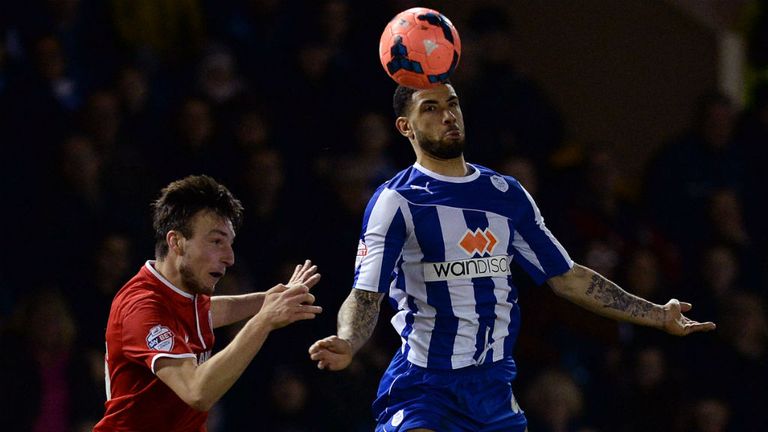 The 2013/14 campaign is now entering the final straight, with divisions beginning to take shape.
Here at Sky Sports, we will look to take you to the very heart of the Sky Bet Football League over the coming months, with our Spotlight features intended to give you a greater insight into the clubs and players that keep us on the edge of our seats.
We hope to bring you the views and thoughts of a representative from each of the 72 teams over the course of the season, with those involved asked to give their take on the division they compete in, the club that pays their wages and those we should all be keeping an eye on.
Charlton's Morgan Fox is next into the hot-seat, with the promising defender taking time out to discuss senior step-ups and steering clear of trouble with Chris Burton.
At the start of the season, what were you expecting from it - were you thinking it might be loan-orientated?
Yeah. After last summer, winning the U21 league, I was looking for progression into a first team, whether that was here or elsewhere. Realistically, it was going to be elsewhere on loan. I finally got my chance at Notts County over Christmas. It was great and did me a world of good.
You had that opportunity and do you think you really benefitted from it, even though it was quite a short spell?
It was a short spell, it was only a month. But in that month, I got seven games in, so there were a lot of games in a short space of time. I feel like I really did benefit from that.
As a young player, you have to accept that loan deals are the way forward don't you, that they play an important part in development?
Yeah, it was great for me and helped me out a lot.
Coming back to Charlton, did they make it clear that they wanted you to stay or were there other opportunities in January?
There were a few options. I had to weigh them up. But the gaffer at the time, Chris Powell, we both sat down together and he told me that he wanted me around and that the plan wasn't to go back out on loan. Since the new coach has come in, it's been the same sort of thing.
Chris Powell left and you then had to prove yourself all over again, didn't you?
Some of the coaching staff are still here and I think they advised Jose Riga who was around and gave him a bit of a heads up. It was difficult, especially at a time that I was just breaking through into the first team. I didn't know what was going to happen, but they've stuck with me and shown me some good faith. It's happy days, really.
You made your debut in the FA Cup game at Sheffield Wednesday - what was that like, were there a few nerves knocking about?
Yeah, there were. I tried to keep them out. On your first start, you are obviously going to get nervous and it really kicked in when we first started walking out and they were signing 'Hi Ho Sheffield Wednesday'. It was the first time I had played in front of 20-25,000 and it was obviously a big occasion in the FA Cup as well. A place in the quarter-finals was at stake, so I was a bit nervous but I really enjoyed it and want a bit more now.
It must have whetted the appetite, to play in front of a big crowd like that after being used to turning out in U21 football?
It did. It was massive for me. It's what you dream of when you're younger. Stepping out in England's biggest cup competition, it's the best thing you can do.
And I take it you are hoping to get more game time season, while understanding that the situation at the moment is far from ideal?
It is, but we had a great win on Tuesday night at Leeds, which was one of our games in hand so we needed to pick up the points there. I do want to be involved. I'm in and around it at the moment, I've been on the bench and came on for the last five minutes at Forest, which was another good win for us. I just have to bide my time and be patient, but I'm really happy to be in and around it.
The Leeds win gives you a bit of breathing space doesn't it, with the games in hand, and you seem to be delivering on the road at the moment - the Forest win was away from home as well?
We do. We've improved our away form, but we've got some massive home games coming up now. We've got Yeovil next Tuesday at home, which is a massive one because they are down there with us. If we win that and get the three points, that gives us a bit more breathing space. That's what we'll be looking to do.
Are you confident that there is enough in the Charlton squad to steer clear of trouble?
Yeah, no doubt. I think the position we're in reflects the season we've had. We've had a bit of bad luck, but hopefully we've turned the corner now. Last night we conceded a penalty but there was a great save by Ben Hamer and we picked up the three points. That was really good.
One of the more obvious problems has been goals - you see the boys every day in training, is the firepower there?
There are definitely goals in our team. Like I say, we've had a bit of bad luck in games, like keepers having great games against us and playing against a lot of good teams. But there are goals in us and it showed last night with Reza (Ghoochannejhad) scoring a great goal. We have definitely got enough quality to stay up in this league.
For you, looking forward, are you hoping there might be a new contract on the way?
Yeah. I'm in talks now and I'd like to stay here at Charlton.
With it being a breakthrough year, you have to make sure you kick on now don't you?
Exactly. I'm not taking anything for granted. I'm still training hard and looking to get in and around it. We'll see what happens, but I want it more than anything.
International ambitions with Wales as well, you're part of the U21 set-up but Chris Coleman has shown that he's prepared to put youngsters into the senior fold if they are playing regularly?
Definitely. The latest one to make the breakthrough is Emyr Huws from Man City. I know him from the U21s, but it just shows - he's getting regular football in the Championship (at Birmingham) and Coleman isn't afraid to throw them in. He's done well but I'm happy playing for the U21s at the moment, we've got another big game against England coming up.