Sam - Speed a true leader
Sam Allardyce has paid tribute to Gary Speed following the death of the Wales manager, saying he had an 'aura' and inspired others.
Last Updated: 04/12/11 12:02pm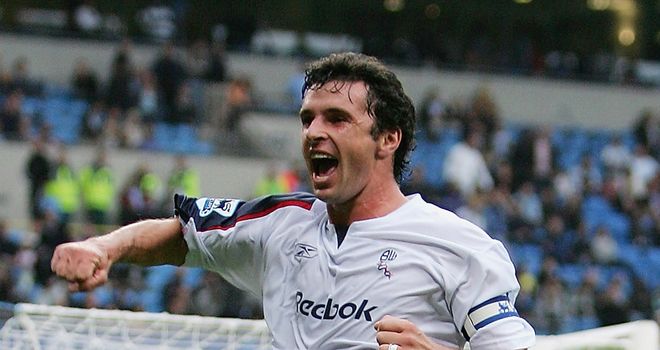 Sam Allardyce has paid tribute to Gary Speed following the death of the Wales manager, saying he had an 'aura' and inspired others with his professionalism at Bolton.
Speed was found dead at his home last week at the age of 42 and tributes have since been pouring in from across the sporting and political world.
A minute's applause was observed at grounds around the country on Saturday in memory of Speed, and West Ham boss Allardyce found it an emotional occasion ahead of his side's 2-1 defeat at home by Burnley.
Allardyce, who worked with Speed at Bolton, has found the news difficult to come to terms with but does not believe people should delve too deeply into why he took his own life.
Allardyce instead prefers to recall how successful Speed was at Bolton and how his hard-working attitude rubbed off on the other players.
"It's terribly distressing. I feel like I have lost a close family friend," Allardyce told the Sunday Mirror.
"Coming to terms with what happened is another matter entirely.
"My thoughts and deepest sympathies are with his wife Louise and the boys, his parents, family and close friends. They are the ones left behind.
"It just goes to show a side and pressure of life that doesn't legislate for who you are and what you have in life.
"While I accept there is a great deal of mystery surrounding his death, I think it's private and should be left alone.
"The outpouring of emotion from football has been unprecedented because he was held in such high regard.
Outstanding
"Gary Speed, the footballer, was someone held in the highest regard because of his outstanding career over many, many years.
"For me to talk about him is as a man and a human being. That is the most important thing."
Speed signed for Bolton in 2004 at the age of 34 and stayed for four years as Bolton established themselves as a Premier league force to be reckoned with.
Allardyce said: "He joined me at Bolton in what some would say was the twilight of his career, but he gave the club so much in what was a hugely successful period.
"Often when you sign an older professional, they might question new methods such as taking on fluids, nutrition, ice baths, cryotherapy, recovery periods and yoga.
"Gary would have a go and take it all on board.
"He became the icon for all the other players at the club for new techniques.
"They saw if it was good enough for Gary, it was good enough for them.
"As a leader on and off the pitch, he would always want to learn and question. He had an aura that when he came into a room people always instantly wanted to listen to what he might have to say."