Hill issues Vaz Te warning
Keith Hill believes Ricardo Vaz Te has made a mistake by leaving Barnsley to join West Ham.
Last Updated: 01/02/12 12:23am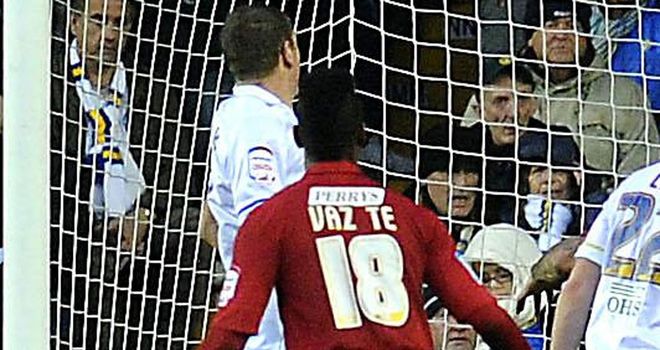 Keith Hill believes Ricardo Vaz Te has made a mistake by leaving Barnsley to join West Ham and warned the striker he might become "a football ghost" once again.
Vaz Te only joined the Tykes in the summer when Hill gave him a chance to resurrect his career, but the Tykes' leading scorer has on Tuesday opted to link up with Sam Allardyce, who managed him at Bolton, at West Ham once again.
And speaking after Barnsley's 3-2 Championship victory over Derby, Hill expressed his disappointment at the decision of the Portuguese.
Asked if the player's switch was inevitable, Hill said: "Not really. West Ham have got a very good player who was a football ghost at the start of the season, sometimes players take what they want rather than what they need and he needed to stay here.
"But he decided to go and I hope he doesn't become another football ghost. He's got a lot of talent, but maybe just a bit-part player down there.
"But we didn't suffer without him, we scored three goals again. It's history now, it's over and we move on."
The departure of Vaz Te clearly had no impact on his former team-mates, who put Derby to the sword in the first half at Oakwell.
Matt Done opened the scoring for Hill's side, then an Andy Gray penalty and Scott Wiseman's first goal for the club stunned the previously in-form Rams.
Hill was delighted with the first half showing from his side, but was disappointed with the way Derby were allowed back into the game in the second half as Jamie Ward and new loan signing Tom Carroll struck for the visitors.
The Tykes boss added: "We created their goals for them, we made mistakes and it can leave a bitter taste in your mouth, but I'm really pleased with the three points and the first half performance.
"I'm pleased with the way that we managed the second half to a certain degree, but those two goals were avoidable to a certain degree and we could have been found guilty of drawing or losing a game as a direct result of individual errors."
Rams view
The defeat was Derby's first in seven Championship games and boss Nigel Clough was baffled by the dire display from his side in the opening 45 minutes.
The Rams boss said: "We had not conceded a league goal in January and then we concede three in 30 minutes. No excuses, I absolutely can't work out where it came from really.
"We can't come up with one (an explanation). Especially when you look at the second half performance and when you look at the last two or three months, with how tight and solid we've been as a defensive unit and players we've relied on - the full-backs especially as I think it was the full-backs rather than the centre-halves that have cost us.
"Everybody had on an off 45 minutes, we put it right in the second half but the damage was too much."