Taylor's West Ham survival aim
Matt Taylor believes West Ham's first priority for the coming season must be to stay in the Premier League.
Last Updated: 11/07/12 12:56pm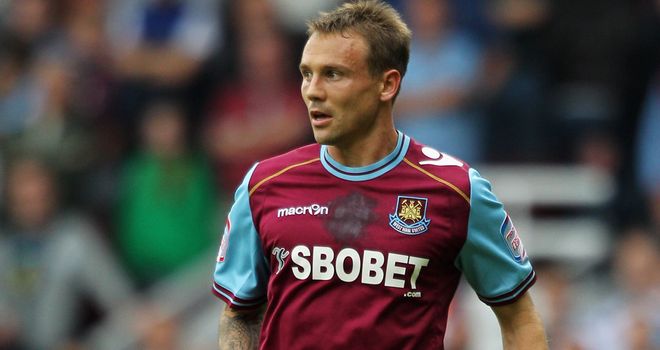 Matt Taylor believes West Ham's first priority for the coming season must be to stay in the Premier League.
Taylor played 28 league games for the Hammers in their Championship promotion campaign and expectations will be high on their return to the top flight.
But the 30-year-old left-sided player knows how difficult the league can be and is cautious about making grand predictions for the coming campaign.
He told the club's official website: "From previous experience, when you get promoted or are a team that has less financial resources than the top teams in the league, you want to stay up first and foremost.
"That will be the first aim, as it will be for the teams not in the top six this season.
"We want to make sure we get to that magical 40 points as soon as possible and, if you look at the teams who came up last season like Swansea and Norwich, then you see that anything is possible.
"We don't want to talk too much about where we want to finish next year - obviously we want to stay in the Premier League and if we can achieve that as quickly as possible then that would be a good season.
"There are no easy games in the Premier League.
"A lot of teams might go into a game against Manchester United in a different mindset to a game against a lesser team, which I personally think is wrong.
"We're going to go into every game this season believing we can win, because if you don't have that winning mentality then I don't think there is any point in playing.
"For me, every game in the Premier League is not an easy game. I've never played in an easy game in the Premier League and this season will be the same."
Pre-season
Sam Allardyce's side were promoted through the play-offs last season but were still back in training early for the challenge of the new campaign.
Taylor admits that has been hard work but believes it could pay off for the Upton Park side.
He added: "We've got a couple more trips planned (to Germany and Portugal) as well. Pre-season has been going well. It's getting harder, the older I'm getting, but I'm not going to complain!
"The whole point of last season was to get back to the Premier League and we've started earlier than the other teams because we want to hit the ground running.
"Hopefully we can do that and we can have a long summer next year."