Sam Allardyce backs West Ham to return to winning ways against Southampton
Sam Allardyce believes his West Ham side will benefit from an easier start to the season when they meet Southampton.
Last Updated: 20/10/12 2:16pm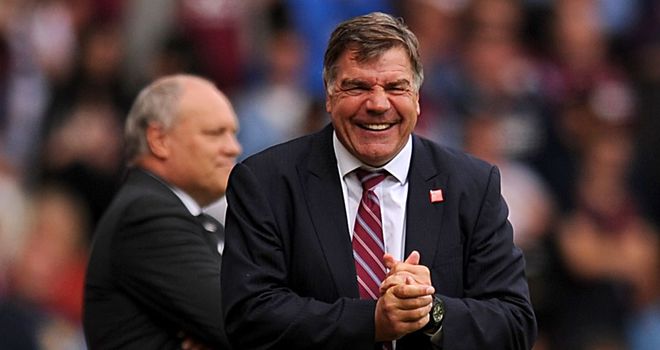 The Hammers entertain fellow promoted side Saints at Upton Park on Saturday having lost only once in front of their own fans in the Premier League.
Allardyce's side enjoyed home wins over Aston Villa and Fulham and a draw with Sunderland before they finally came unstuck against Arsenal last time out.
In contrast, Saints have already had tough fixtures against Manchester City and United, Arsenal and high-flying Everton.
"We've coped with the Premier League very well over the start of our season, also I think we had a group of fixtures that were less challenging than Southampton's," said Allardyce.
"We were disappointed by Arsenal, but our confidence, particularly here at home is very high.
"I hope we can see the same level of performance that I've seen, particularly against Sunderland, Fulham, and Aston Villa at the start of the season. If we can hit that level of form, I think we'll get opportunities to win the game.
"Clearly one of (Southampton's) strengths is set plays and I don't want to jump the gun, but one of our strengths this year is not conceding from set plays as well as scoring from them.
"We'll have to try and maintain that level and if we cut that side of it out for Southampton then we obviously limit their percentages of chances of scoring a goal, because they've been good at it."
The Hammers boss admits that they key to success will likely lay with him finding the right balance between attack and defence.
He said: "There's two ways of playing the game. You play the game when you're in possession and you play the game when out of it. If you don't get both right, you don't win.
"Certainly your first year in the Premier League, what you do out of possession is just as important as what you do in. You've got to get those two critical points on an equal par if you can.
"If you can do that, particularly defensively, even though Southampton haven't found it that difficult, they've scored 12 goals in seven games, but they've gone out to score those 12 goals and left gaps that have been exploited.
"We suffered the same problem against Arsenal two weeks ago, because when we got better in possession in the game, in the second half particularly, they hit us on the break and smashed us a couple of times and they ended up winning 3-1.
"Whereas in the balance as it was looking with only 10 minutes to go at 1-1, we might have got something out of it then all of a sudden..."