Mark Noble has hailed the young players coming through the ranks at West Ham
Mark Noble believes the future is bright for West Ham with a wealth of talent coming through their youth ranks.
Last Updated: 31/10/12 4:56pm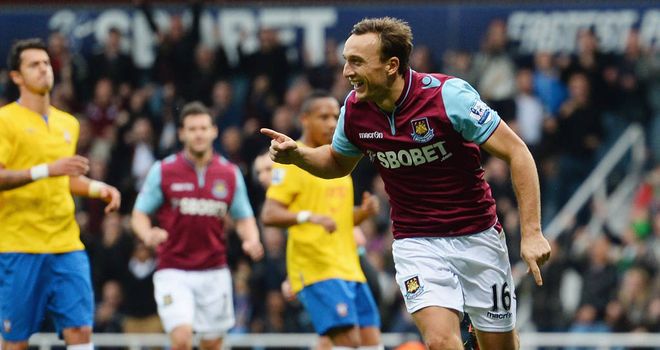 Noble, a product of the club's Academy of Football, has seen other home-grown players follow him into the first team, including Jack Collison, James Tomkins, Jordan Spence, Rob Hall and Dan Potts.
This season youngsters George Moncur, Matthias Fanimo and Dylan Tombides have made their debuts, while Leo Chambers, Callum Driver and Paul McCallum have all been named on the substitutes' bench.
Noble told the club's official website: "I think Jordan, Moncs, Hally, Matthias, young Leo - who has travelled with us to the last two Premier League games and been on the bench - and the others are doing well.
"If they keep on grafting, don't let it go to their heads when they travel with the first team and put it in when they play for the Development Squad, then they will keep enjoying it and keep moving forward.
"We have got a good crop of young players and they will soon be pushing the seniors for their places.
"The Premier League is obviously a tough league to come into - I learnt that as a 17-year-old that it's a tough ask and you've got to be mentally capable to do that.
"But hopefully they can keep pushing us."
Voice support
Meanwhile, Noble has urged the West Ham fans to roar the side on when reigning Premier League champions Manchester City visit on Saturday.
"It's so important to have that support, particularly when things aren't going well. You're not always going to be two or three-nil up at half-time - it's not going to work out like that," he said.
"We all need the fans behind us from kick-off until the final whistle because it only takes a second or two to score a goal.
"Every little bit of noise and encouragement that they give us helps us massively so I hope they carry on with the support they have given us this year because it's been fantastic."