West Ham boss Sam Allardyce insists he has improved every club he has worked for
West Ham boss Sam Allardyce has defended his record as he prepares to take on former club Newcastle on Sunday.
Last Updated: 10/11/12 12:58pm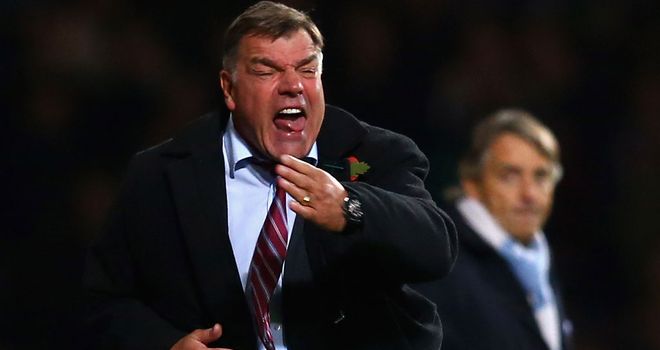 Allardyce was fired from St James' Park in January 2008 - with the Magpies 11th in the Premier League - after Mike Ashley had taken over the club the year before.
He subsequently went on to manage Blackburn, where he was also sacked in December 2010 by new owners Venky's, before taking over at Upton Park and leading them to promotion last term and a present ninth position in the table, a point ahead of the Magpies.
Defending his record, Allardyce told the Daily Telegraph: "Ask the people who worked with me. I evolved the type of football that they liked. The players who worked with me enjoyed the journey that we took.
"Every club of mine finished in a better position when I left than when I took over.
"The yardstick of a manager's success tends to be, 'What have you won?' You can't measure mine like that.
"Each club, whether it was Limerick, Blackpool, Notts County, Bolton, Newcastle, Blackburn or West Ham, I improved.
"It's not me blowing my trumpet, it's a fact. Look at it another way. Every one of my former clubs has been relegated since. Is that a better measurement?"
Harm career
Allardyce denied the sackings had affected his confidence but they had harmed his career.
"No (it didn't affect his confidence), because I didn't deserve to be sacked from either of those positions," he said.
"But it does harm your career. Clearly West Ham are a bigger and better club than Blackburn Rovers, but I had to take them while they were still in the Championship."
He added: "When I lost my job at Newcastle, I remember a few press lads asking, 'Are you going to drop down to come back up again?'
"I said, 'Am I what? I'm one of the longest-serving Premier League managers around and you're saying I should drop down to the Championship? Have you seen my CV?'
"It shows you how people forget in this game and how, over time, they can lose the reality of what you have done."