West Ham midfielder Mohamed Diame is aware of Newcastle's attacking threat
Mohamed Diame knows it will be difficult for West Ham to contain the likes of Papiss Cisse and Demba Ba.
Last Updated: 10/11/12 7:09pm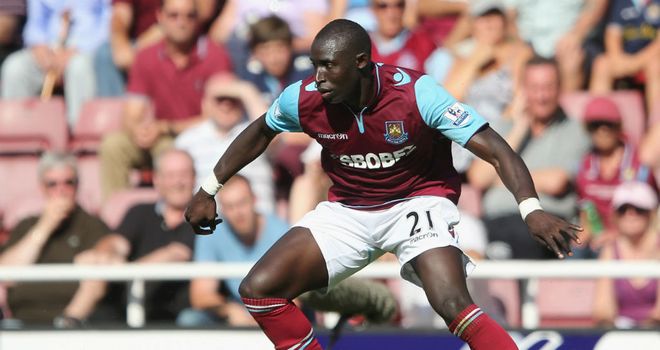 Diame, 25, has impressed for West Ham since moving to Upton Park in the summer from Wigan as Sam Allardyce's side have defied the odds to sit ninth in the table.
Newcastle are one point and one place below the Hammers in the standings and Diame wants to utilise his knowledge of his Senegal team-mates to help towards a win on Sunday.
"After the game against Wigan, I think we needed to have this reaction against Manchester City. We did it, so now we have to maintain that and take the three points from Newcastle," he told the club's official website.
"There are a lot of fans there and it is a big stadium. I have some friends there, both Senegalese and Frenchmen, so it's going to be a good game.
"I know Demba and Papiss very well and I also know that they have scored a lot of goals. We have to make sure we don't give them a lot of chances to score.
"They are different players, but they both work every day in front of the goal and are strikers who know how to score, so we have to try to restrict their chances."
Midfielder Diame has also spent time playing alongside Newcastle playmaker Hatem Ben Arfa.
"I was in Clairefontaine with him so I know he is a very good player," he said.
"He has had a lot of injuries, but he is a very good player so we have to be careful about him as well."
Diame pinpointed the performance against Manchester City in the goalless draw at Upton Park last weekend as a yard-stick for the challenge ahead on Tyneside.
"We are just going to go there and try to replicate the game we played against Manchester City," he said.
"These are the games I enjoy and I am sure it will be the same for Andy (Carroll) and Kevin Nolan as well. It is going to be a good game and we are going to enjoy it and hopefully get the three points."